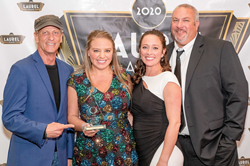 "We appreciate the accolades from our industry peers and we encourage everyone to visit our community, learn more about living at Beacon Lake and join the hundreds of families that love living here." —Bruce J. Parker, Managing Director of BBX Capital Real Estate
ST. AUGUSTINE, Fla. (PRWEB) March 05, 2021
The Northeast Florida Builders Association's Sales and Marketing Council recently honored BBX Capital Real Estate with a gold Laurel Award for Best Community Website for Beacon Lake.
"We are honored to receive this recognition for Beacon Lake's website," said Bruce J. Parker, managing director for BBX Capital Real Estate, Beacon Lake's master developer. "Our website effectively communicates the community's upscale, coastal lifestyle. We appreciate the accolades from our industry peers and we encourage everyone to visit our community, learn more about living at Beacon Lake and join the hundreds of families that love living here."
The recently redesigned website presents a new look with video enhancements and other improvements that provide a better user experience. It includes a community portal for residents to keep up-to-date on Beacon Lake events and activities. The website attracts thousands of potential new residents each month and is the largest lead generator for the community.
At Beacon Lake, Dream Finders Homes and Toll Brothers are building coastal-inspired single-family homes featuring front porches and open floor plans. Dream Finders also is building luxury townhomes in Harborside at Beacon Lake. Seven model homes are currently open for tours. Homes are priced starting from the mid $200,000s.
The heart of the Beacon Lake community is Lake House, the 8,200-square-foot amenity and fitness center. It is anchored by a 43-acre lake and located within 358 acres of nature preserve.
For more information about Beacon Lake, go to http://www.BeaconLake.com.
About BBX Capital Real Estate:
BBX Capital Real Estate, a division of BBX Capital Corporation, is involved in the development, operation, management, and investment in residential and commercial real estate including investments, directly and indirectly through joint ventures, in master planned communities, multifamily rental communities, single family for sale communities and commercial properties located primarily in Florida. For more information, please visit http://www.BBXCapitalRealEstate.com, or contact at Bruce J. Parker at 954-940-4941 or BParker@BBXCapital.com.