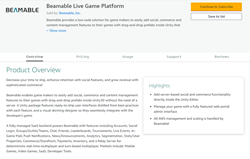 Making Beamable available in AWS Marketplace makes life easier for experienced game makers to build and scale live games
BOSTON (PRWEB) September 24, 2020
Beamable has launched in AWS Marketplace, providing a no-code and low-code solution for building and operating live games with dynamic content. Game studios benefit by increasing their time-to-market, decreasing their total cost of ownership (TCO) and improving player engagement with more frequent updates to content, features and events. Leveraging the power of Amazon Web Services (AWS), game studios large and small are assured that Beamable can meet the scaling, availability and performance requirements of the most demanding games.
In the most recent quarter, over a dozen new games have adopted the Beamable platform, including Archer: Danger Phone, based on the hit FX series. Previously, Beamable was built to power games with demanding authoring requirements, such as those built on popular television series with weekly updates including Star Trek and Game of Thrones.
"Making Beamable available in AWS Marketplace makes life easier for our customers," explained Jon Radoff, CEO of Beamable. "Beamable is now available as a Software-as-a-Service (SaaS) option for studios who want to get up-and-running as quickly as possible."
Beamable was launched earlier this year to make it easier to build and operate live games based on Unity. With the launch in AWS Marketplace, Beamable is broadening its addressable market to include Unity developers at the point they need game server hosting, as well as studios building on other 3D engines who need an efficient content authoring and live operations platform. By purchasing Beamable through AWS Marketplace, game studios can consolidate all of their infrastructure costs in one place.
To learn more about Beamable on AWS, visit https://beamable.com/aws
To get started with Beamable as a Live Game Platform for your Unity game, visit the Beamable AWS Marketplace Listing at https://aws.amazon.com/marketplace/pp/B08G3LTQW3?qid=1600440098979