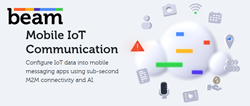 "We only add applications to the FirstNet App Catalog that are highly secure, high quality, and relevant to public safety. And we're pleased that beamFirst is now Verified and available to FirstNet subscribers," said Scott Agnew, assistant vice president, product marketing, FirstNet Program at AT&T
WOODSIDE, Calif. (PRWEB) March 16, 2021
Following a rigorous review process, beamFirst is now FirstNet® Verified™ and accessible via the FirstNet App Catalog.
beamFirst delivers new levels of situational awareness and first responder communication and safety through near real-time IoT content sharing, live video, sub-second GPS tracking and navigation, Internet of Things (IoT) sensor alerts, warnings and notifications, plus voice and text - all on one screen of any mobile device. We enable migration from legacy systems to true Broadband communication for emergency response. Designed by first responders for first responders, our easy-to-use service functions on the devices your people own and use now. beamFirst delivers the capabilities of multiple apps in one comprehensive service increasing efficiencies and saving money.
FirstNet – America's public safety communications platform – features the first-ever App Catalog geared to first responders, including more than 150 apps relevant to public safety's mission. This gives FirstNet subscribers a dedicated location to find meaningful new solutions that have been specifically reviewed for use with FirstNet services. Before any mobile solution can be added to the FirstNet App Catalog, it must pass stringent third-party tests for security, relevancy, data privacy and more.
"Our objective is to turn minutes into seconds for emergency response and first responder safety," stated beamLive's CEO Mehrdad Negahban. "beamFirst has been designed by first responders for first responders," Negahban continued, highlighting the beamLive executive team members with emergency response experience whose input was instrumental. "beamFirst is noted for its ease of use and training and is intended to be utilized as an everyday mobile communication tool that can be heightened and expanded during crisis scenarios to enable near real-time, multi-agency communication and collaboration," Negahban continued.
Achieving a FirstNet Verified designation means beamFirst is a vetted and trusted solution for public safety, meeting FirstNet app requirements. Additionally, FirstNet subscribers will also be able to take advantage of the beamFirst solution while benefitting from the enhanced security provided by the FirstNet network core, which is the only physically separate network core dedicated entirely to public safety in America.
Built with AT&T, in public-private partnership with the First Responder Network Authority, FirstNet is bringing public safety communications into the 21st century with new, innovative capabilities to strengthen first responders' incident response. And it's helping them connect to the critical information they need – every day and in every emergency.
"We only add applications to the FirstNet App Catalog that are highly secure, high quality, and relevant to public safety. And we're pleased that beamFirst is now Verified and available to FirstNet subscribers," said Scott Agnew, assistant vice president, product marketing, FirstNet Program at AT&T. "beamFirst will bring public safety additional capabilities to enhance situational awareness and provide a clear and actionable operating picture while heightening safety levels for first responders through enhanced mobile communication, monitoring and tracking in emergency scenarios."
"Through our work with first responders, we heard their need for innovative applications to assist with their lifesaving mission. FirstNet is helping to address these needs, and we are pleased to welcome beamFirst to the FirstNet App Catalog," said Jeff Bratcher, Chief Network and Technology Officer, First Responder Network Authority.
To learn more about beamFirst go to http://www.beam.live or contact Bill Lane at b.lane@beam.live
Click https://www.firstnet.com/apps/app-catalog.html? for a full list of apps in the FirstNet App Catalog. For more on FirstNet, check out FirstNet.com.
FirstNet and the FirstNet logo are registered trademarks of the First Responder Network Authority. All other marks are the property of their respective owners.
About beamLive, Inc.
beamLive, Inc., based in Silicon Valley and London, UK, developed and patented its Mobile IoT Communications Platform™, that can be customized to meet the specific needs of its clients. This system configures dynamic Internet of Things (IoT) data from various inputs (including video, GPS, home, vehicle and medical devices) into sub-second latency, mobile messages and relevant content for a target audience. Artificial intelligence and custom algorithms are applied to livestream data to enable mission-critical communication and generate time-sensitive, actionable knowledge. The Company's Communication-as-a-Service ("CaaS") cloud-based platform is developer-friendly, which enables a variety of products and services to be launched quickly and inexpensively on Windows, Apple, Android and Linux operating systems.