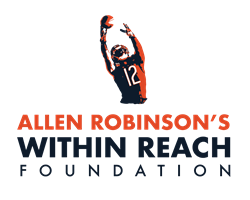 CHICAGO (PRWEB) October 21, 2020
On Monday evening, Chicago Bears Wide Receiver Allen Robinson hosted his annual 'An Evening Within Reach' fundraising event in benefit of his Within Reach Foundation. For the first time ever, though, the event was held virtually to ensure proper social distancing so all guests in attendance. More than two hundred foundation supporters tuned in to participate in the livestream event on Monday evening, which featured celebrity appearances from teammates Nick Foles, Anthony Miller, Darnell Mooney, Riley Ridley, Javon Wims, Rodney Adams, Reggie Davis as well as local celebrities Laurence Holmes, Justin Roman, David Kaplan, Cortney Hall and Israel Idonije.
Robinson joined the event live from his home and spoke at length about his foundation's outreach, highlighting some of the adjustments to its mission to accommodate the COVID-19 pandemic. Traditionally, the foundation has impacted low-income students through installing reading rooms at local schools and Boys & Girls Clubs. With these facilities still closed, Robinson will be utilizing proceeds from the event to provide take-home educational kits that will give these students age-appropriate books, fun science experiments and other resources to keep learning fun and front-and-center.
Proceeds will also support the new addition to his mission – hunger relief. With schools closed, students do not have regular access to the free and reduced lunch program. Resultantly, Robinson began working with the Greater Chicago Food Depository, providing over 18 tons of food since the pandemic began. The Within Reach Foundation will use proceeds from this event to continue distributing these meals into the Fall and Spring of 2021.
In all, over $110,000 was raised through the virtual 'An Evening Within Reach' on Monday night, including a $40,000 donation from Allen himself. These funds will continue to improve the quality of life of the kids most impacted by the COVID-19 pandemic in Chicago.
For more information and to see photos, please visit the foundation's social media accounts on Facebook, Twitter and Instagram.
About Allen Robinson's Within Reach Foundation:
Founded in 2015, Allen Robinson's Within Reach Foundation is the personal charity of Bears Wide Receiver Allen Robinson. The mission of Allen Robinson's Within Reach Foundation is to provide educational opportunities and resources to low-income and inner-city Chicago-area students to help put success within their reach.
Media Contact:
Austin Alley
austin.alley@prolanthropy.net