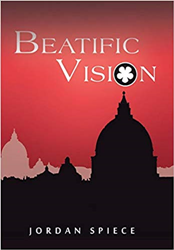 This story proves that not everything is as it seems...and that even the smallest individuals can make a difference.
COLUMBUS, Ga. (PRWEB) January 13, 2020
In Jordan Spiece's new fictional thriller, saving the Vatican may mean saving the world as the humans take on the demons attempting to take control of Rome.
In "Beatific Vision," Spiece depicts humanity, caught between a supernatural battle between good and evil. Readers are taken on an adventure through Rome, as the distinction between right and wrong becomes unclear.
"I wrote this book as an escape from reality," Spiece said. "It was a way to place myself and my loved ones in an environment I could control and guide."
In Spiece's escape, Rome is held captive and the heroes of this supernatural mystery come from the unlikely duo of Daven and Adam, unassuming men who are just trying to protect their loved ones. With the help of angels keeping watch, the pair take on a new Roman power, Domus Aurea, who has partnered with the vengeful children of Lilith.
Commander of an elite branch of the Vatican military, Giuseppe Morreti, finds himself caught in the middle of a spiritual tug-of-war between the people of Rome and the demons attempting to take control of the city.
"This story proves that not everything is as it seems," Spiece said, "and that even the smallest individuals can make a difference."
"Beatific Vision"
By Jordan Spiece
ISBN: 978-1-5462-4880-4
Available at AuthorHouse, Amazon and Barnes & Noble
About the author
Jordan Spiece was born in Alberta, Canada, migrating to the United States at a young age. He exhibited artistic abilities in his adolescence, writing short stories and illustrating his own books. His passion for storytelling followed him into his adult life and became a labor of love in the form of "Beatific Vision." To learn more about the author or his book, visit https://www.authorhouse.com/en-gb/bookstore/bookdetails/775328-beatific-vision.
###
Review Copies & Interview Requests:
LAVIDGE – Indianapolis
Lindsey Gobel
317.435.2116
lgobel@lavidge.com