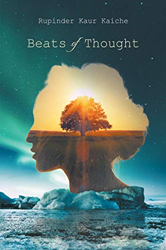 Love is a strong force which can bind humanity to take collective meaningful action.
NASHIK, India (PRWEB) May 12, 2021
To express her concern on the Earth's current state and to take a few steps in protecting it, author Rupinder Kaur Kaiche wrote "Beats of Thought" (published by Partridge India in July 2019), a poetry collection that touches on subjects such as humanity, the environment and social issues.
The poems in her book serve as eye-opener to the reality of the Earth's state, as they describe some very pertinent issues humanity as a whole is facing. Kaiche sees the reason why people should care about humanity as poverty and hunger are prevalent in a global scale. There are also poems which celebrate the warmth and love of relationships and the power of emotions. "My book will make you fall in love with nature. Experience peace, bliss and positivity that is so abundant all around us through my poems," Kaiche says.
The sense of urgency is reflected in her poem as she sees concern of the damages done to the environment leading to natural disasters. The book will make readers feel the agony that was recently inflicted on the flora and fauna of the Amazon rain forest or the bushfires which went berserk in Australia. "We will feel the pain each time a tree falls to the ground, a river is suffocated with pollutants or a mountain is denuded," she says.
In 2018 alone, there are a total of 315 natural disaster events that resulted to 11,804 deaths and 69 million people affected worldwide as recorded by Center for Research on the Epidemiology of Disasters. Among all the natural disasters, flooding affected the highest number of people accounting to 50%.
"Love is a strong force which can bind humanity to take collective meaningful action. Together we can make the world a greener, healthier, tolerant and happier place to live in," she added. To purchase a copy of the book, please visit https://www.amazon.com/Beats-Thought-Rupinder-Kaur-Kaiche-ebook/dp/B07VPN8TM4.
"Beats of Thought"
By Rupinder Kaur Kaiche
Hardcover | 6x9 in | 110 pages | ISBN 9781543705669
Softcover | 6x9 in | 110 pages | ISBN 9781543705652
E-Book | 110 pages | ISBN 9781543705645
Available at Amazon and Barnes & Noble
About the Author
Rupinder Kaur Kaiche is a practicing cardiac anesthesiologist with a passion for writing poetry. She is a nature lover and has published three books celebrating nature. "Beats of Thought" highlights her ideas on day to day life situations and feelings. She feels the depths of love and compassion, the need to harness the energy of anger. The plight during drought and bloodshed is thoughtfully captured. Poems advising her children to grow up as responsible adults is encouraging. There are poems describing nature which is her first love. Her poems exude optimism and compassion.
Partridge Publishing, an imprint of Author Solutions, LLC, aims to help writers in Singapore, Malaysia, India and Southern Africa become published authors. Partridge gives authors in these region direct access to a comprehensive range of expert publishing services that meet industry standards but are more accessible to the market. For more information or to publish a book, visit partridgepublishing.com or call +65 3165 7531 (Singapore), +60 3 3099 4412 (Malaysia), 800014971 (Africa) or 000 800 919 0634 (India).