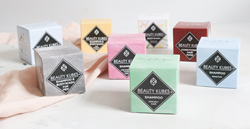 "Every day the world generates at least 3.5 million tons of plastic and other solid waste." -National Geographic
MEDFORD, Ore. (PRWEB) December 07, 2020
Beauty Kubes are an exciting new organic, vegan friendly, hair and skin care products that are plastic free. Beauty Kubes play a big role in reducing the crippling plastic waste problem. As statistics show, every day the world generates at least 3.5 million tons of plastic and other solid waste. The mission of Beauty Kubes was to create a range of solid shampoo and body products that were free from plastics. Beauty Kubes do not contain any animal derived ingredients, or any ingredients tested on animals. They are 100% free from palm oil / palm derivatives. 100% cruelty free beauty. 100% plastic free shampoo. Beauty Kubes are designed to be a high-quality alternative to regular shampoo, conditioner, and body wash products. By eliminating chemicals and plastic packaging, this offers a new clean way to upgrade a shower routine.
How to use
They're small cubes that are taken into the shower and mixed with water. Beauty Kubes are easy and simple to use with just a few steps: Bring one cube with you into the shower, wet your hands and crumble the cube and gently rub your hands together to create a paste, apply to your hair like any shampoo, and finally rinse with water! Each box has 27 cubes in each box, that's a whole month of showers without creating any sort of plastic waste!
Retail and Wholesale
Beauty Kubes are available for sale at wellearthgoods.com and they are sold by the individual box that contains 27 Kubes. They are also available for wholesale in the USA exclusively at wellearthdistribution.com and are available in multiples of 8 boxes.
ENDS