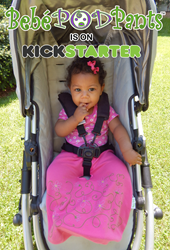 Bebé PODPants was born to fill the need to dress my baby from waist to toe with one garment instead of three for quick outings!
Bowie, MD (PRWEB) September 23, 2014
Toi Box, LLC the parent company for Bebé PODPants, has begun its month-long Kickstarter crowd funding campaign lead by Mom Inventor, Tiffany Copon, who learned the hard way that necessity is in fact, the mother of invention when she created this innovative baby product. Bebé PODPants is currently seeking crowd-funding assistance through its Kickstarter campaign for the products first national launch into the baby and juvenile marketplace!
"Bebé PODPants was born to fill the need to dress my baby from waist to toe with one garment instead of three for quick outings", says Mrs. Copon. She continues, "Now fast-forward from then to now, Bebé PODPants has gone through many modifications to reach the patent-pending design sourced and made in the USA and featured today. In addition, Bebé PODPants has been verified by an industry leader that ensures the quality and safety of consumer goods and field tested by new and veteran parents of infants to be a proven convenience apparel addition to any babies wardrobe and used for travel in strollers and car seats and an awesome diaper bag essential for a parent's infant travel nightmare, the Diaper Blow-out."
Bebé PODPants has already won awards, received great reviews and press from new moms and bloggers alike and new celebrity moms have been "gifted" with product. Blogger and new mom, Nichole from the blog, Mommy By Nurture shares, "My main concern was not for diaper blow outs but for when we got in to stores and hit the refrigerated aisles. I hate to put pants on my son with the hot Florida weather; he also can't stand to have socks or shoes on unless he is trying to walk. Even more of a concern was rainy days, and getting wet and cold. This product is lightweight and keeps him warm. I love how easy it is to latch the buckle for the car seat through the little slit." She continues, "I loved that my son was above the listed weight and he still had room to rock it!" New mom and customer Skylar J. adds, "I love that all I need is Bebé PODPants when my son is dressed in his "onesie" when we go for my morning run using a jogging stroller." She continues, "Just slide the "pod" over his legs, plop him in the stroller, feed the buckle through, "SNAP IT" and we're off."
The campaign's $7000 funding goal will allow for creation of new print designs and manufacturing for national distribution. The reward levels are simple and easy to choose from; there is even a reward pledge level to become part of the company's design team.
Bebé PODPants is turning to Kickstarter to help get one more step closer to bringing this amazing convenience infant parenting product to the masses.
The Kickstarter campaign for Bebé PODPants runs until October 24, 2014, 11:59 p.m. EST and can be found at: https://www.kickstarter.com/projects/coponbusinessventure/bebe-podpants-not-your-ordinary-baby-pants