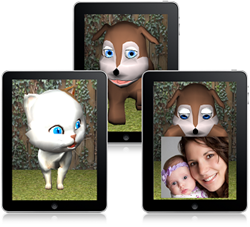 BeCared continues to provide quality care services...by collaborating with innovators and providers of advanced therapeutic technology, so we are very excited to begin offering GeriJoy's virtual companion service to our clients.
San Francisco, CA (PRWEB) July 31, 2014
"BeCared continues to provide quality care services to secure our clients' integrity and safety by collaborating with innovators and providers of advanced therapeutic technology, so we are very excited to begin offering GeriJoy's virtual companion service to our clients," says Alice Kim, Founder & CEO of BeCared, a leading home care provider with offices in Palo Alto and San Jose, CA.
GeriJoy was founded by MIT researchers to improve quality of life for seniors and caregivers through friendly technology. The GeriJoy Companion, their flagship service, is a tablet-based virtual pet and companion for the elderly that is available 24/7 and is supported by GeriJoy's worldwide team of remote caregivers who are specially trained in dementia care. GeriJoy's remote caregivers guide the pet's speech to provide seniors with the experience of having an always-available companion that can talk with them about family photos, life stories, and more. Because GeriJoy's remote caregivers can actually see and hear through the pet's tablet device, and because they log the interactions they have with older adults, GeriJoy's service also has a variety of supervisory and health coaching applications.
GeriJoy has been recognized by organizations like AARP, TEDMED, and the US Senate as a leading innovator in senior care, and has documented benefits in care situations ranging from family caregiving to private-duty home care, assisted living, and skilled nursing dementia care.
According to Kim, the GeriJoy Companion is a great complement to traditional care services. The service helps to not only reduce loneliness and improve mental health for seniors, but also to reduce stress and provide peace of mind for family members and caregivers. The GeriJoy Companion is also capable of asking seniors friendly, day-to-day questions about health and behavior, and interfacing with doctors and nurses to help them better mitigate risks such as heart failure, respiratory issues, and depression. For these reasons, GeriJoy recently won a prestigious award from the New York City Economic Development Corporation and Health 2.0 to be introduced to the Mount Sinai hospital system.
"BeCared is taking a strong leadership role in the field of senior care. By complementing traditional home care services with the best technology-enabled and community-based solutions available, we can together provide the highest quality care at lower overall costs. I'm excited to work with Alice Kim and her team at BeCared."
Kim is available for press, radio or TV interviews to discuss and to demonstrate this unique technology. Kim can be contacted by email at support(at)becared(dot)org or by calling 877-687-9693. To find out more, please visit BeCared.org and click the "Services" link on the top menu.
About GeriJoy
GeriJoy provides teams of specially-trained remote caregivers who interact with older adults through tablet-based avatars. GeriJoy's tech-enabled, people-driven service improves care, increases peace of mind, and lowers overall cost of care by providing up to 24x7 companionship, supervision, and clinical support. The avatars appear as adorable talking pets, allowing GeriJoy to build joyful friendships with people who are otherwise difficult to engage due to cognitive, memory, or behavioral issues. To learn more, visit gerijoy.com.
About BeCared
BeCared provides quality care services to help clients lead dignified lifestyles in the comfort of their own homes. BeCared offers care with respect, companionship, collaboration, and professionalism so that older adults can continue to enjoy their lives. The company's number one priority is to ensure disability or age does not interfere with happiness and quality of life. To this end, BeCared collaborates with community services and leading health technology providers to enhance quality of care. To learn more, visit BeCared.org.