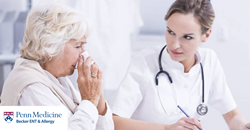 PRINCETON, N.J. (PRWEB) January 03, 2023
Becker ENT & Allergy offers a full range of services, including medical and surgical treatment of conditions affecting the ears, nose, throat, and related structures of the head and neck. Board-certified physicians are experts in the latest ENT treatments and technologies and are committed to providing each patient with individualized care.
Becker ENT & Allergy is now serving the areas of East Windsor and West Windsor! This expanded access to medical and surgical services means that residents of these communities can now receive the highest quality care for all their ENT needs.
For more information, please visit: https://www.beckerentandallergy.com/
We all need clear sinuses for free and easy breathing. Inflamed or blocked sinuses can cause difficulty breathing, congestion, and sometimes pain. Many people suffer from chronic sinusitis or recurring sinus infections, which can interfere with sleep, work performance, and quality of life.
Becker ENT Specializes In:
Sinusitis
Becker ENT investigates the root cause of sinusitis to determine whether it is acute or chronic and identify the best treatment options. In some cases, sinusitis can be caused by structural problems in the nose or sinuses, such as a deviated septum. In these cases, surgery may be recommended to improve airflow and drainage. However, in other cases, less invasive treatments such as medication or irrigation may be all that is needed to relieve symptoms. Becker ENT otolaryngologists treat each patient with the utmost compassion and respect.
Otolaryngology
Head and neck surgery is a subspecialty of otolaryngology that deals with the surgical treatment of head and neck disorders. The head and neck include the sinuses, larynx (voice box), oral cavity, pharynx (throat), and face and neck structures.
Otolaryngologists at Penn Medicine Becker ENT & Allergy work as a team to determine what is causing a patient's head and neck issues and devise a personalized plan to fix them. Often, problems in these areas are caused by thyroid or sleep apnea problems, while other times, it can be as serious as head and neck cancer. No matter the issue, otolaryngologists at Penn Medicine Becker ENT & Allergy are here to help.
Sleep Apnea
Another issue is sleep apnea. This occurs when breathing is interrupted during sleep. This can happen because of obstruction in the airway or a problem with the brain signals that control breathing. Sleep apnea can lead to fragmented sleep, which can cause daytime fatigue and impair work performance and quality of life. It can also strain the heart and increase the risk of high blood pressure, stroke, and heart attack.
Becker ENT physicians treat sleep apnea with various methods, depending on the underlying cause. Surgery may sometimes be recommended to remove blockages in the airway. However, other treatment options include lifestyle changes, such as losing weight or sleeping on your side and using a continuous positive airway pressure (CPAP) machine. In some cases, an oral appliance or antihistamine may be enough to ease symptoms. Becker ENT sleep specialists will work with you to determine the best course of treatment.
For information relating to services offered in Robbinsville, please visit: https://www.beckerentandallergy.com/locations/robbinsville-nj-ent-doctor
Hearing Aid Evaluation
Becker ENT now offers hearing aid evaluation to East Windsor and West Windsor residents. Audiologists on staff offer comprehensive testing and counseling services to patients of all ages. They also dispense and fit hearing aids and provide ongoing support to patients as they adjust to life with hearing loss.
Ear Infections & Hearing Loss
ENT professionals commonly treat chronic ear infections, perforations, wax buildup, and eustachian tube dysfunction. If you or a loved one is experiencing hearing loss, the first step is to schedule a hearing test. This will help to determine the extent of the loss and what type of treatment will be most effective for better hearing. In many cases, hearing loss solutions such as hearing aids can significantly improve the quality of life.
Allergies
Allergies occur when the immune system reacts to a harmless substance as if it were a threat. This can cause various symptoms, including watery eyes, a runny nose, hives, and anaphylaxis. Many people suffer from seasonal allergies when pollen is released into the air. Others may have allergies to specific foods, such as peanuts or tree nuts. If you think you or your family members may have allergies, immunotherapy may be a good option to help manage symptoms. Allergy shot drops or other treatments may be appropriate.
Meet The Doctors
Dr. Robert Mignone, DO, and Dr. Omar Ahmed, MD
Dr. Robert Mignone and Dr. Omar Ahmed are highly trained, board-certified otolaryngologist-head and neck surgeons at Penn Medicine Becker ENT & Allergy.
While taking a special interest in upper airway disorders, Dr. Mignone practices all aspects of otolaryngology. This includes allergy/sinus disease, sleep apnea, thyroid/parathyroid, and other head and neck disorders. After medical school, he completed a residency in Otolaryngology-Head & Neck Surgery and Facial Plastic Surgery and also had training at Memorial Sloan-Kettering Cancer Center. Dr. Mignone sees both adults and children.
Dr. Ahmed specializes in Ear, Nose, and Throat disorders. His advanced fellowship training in minimally invasive sinus and skull base surgery gives him special expertise in medical and surgical treatments of sinus and nasal conditions. He is a well-established speaker and has authored many scientific articles.
Dr. Kathryn Edwards, MD
Dr. Kathryn Edwards is a highly trained, board-certified Allergist and Immunologist. After joining the United States Army and becoming a Board-Certified Pediatrician, she spent many years deployed in Iraq serving military families and those in need. Dr. Kathryn Edwards specializes in the diagnosis and treatment of allergies including seasonal, environmental, and food allergies. She also treats a variety of skin conditions including hives, eczema, and asthma.
For information relating to Allergy & Hearing Loss Services, please visit: https://www.beckerentandallergy.com/
The expert allergists and immunologists at Penn Medicine Becker ENT can offer testing, reconstructive surgery, and long-term care for all ages suffering from allergy and asthma symptoms.
Becker ENT is a medical specialty that diagnoses and treats the abovementioned conditions. For ENT services in East Windsor and West Windsor, look no further than Becker ENT to provide the best possible care for patients of all ages.
Contact
Organization: Penn Medicine Becker ENT & Allergy
Website: https://www.beckerentandallergy.com/contact
Location: 256 Bunn Drive, Suite A
Princeton, NJ 08540
Phone: (609) 354-5445 | Get Directions