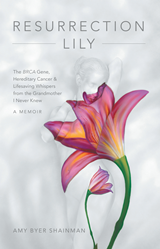 "'Resurrection Lily' is as helpful a book as you will find on the topic of BRCA mutations. Amy Byer Shainman has deftly intertwined crucial scientific information with moving stories of how she, her family and her friends have navigated this complex genetic issue." – Barron H. Lerner, MD, PhD
JUPITER, Fla. (PRWEB) March 04, 2019
Amy Byer Shainman, also known as the BRCA Responder, has established herself as a leading advocate for those with BRCA and other hereditary cancer syndromes. In her touching new memoir, "Resurrection Lily: The BRCA Gene, Hereditary Cancer & Lifesaving Whispers from the Grandmother I Never Knew," Shainman paints a timely and moving portrait of what it feels like to carry a BRCA gene mutation, which puts her at high risk of developing certain cancers, as she grapples to come to terms with preventively removing her breasts although not diagnosed with breast cancer.
Similar to movie star and humanitarian Angelina Jolie, who famously shared her BRCA story in The New York Times, Shainman provides firsthand insight into the patient experience and decision making process. She details her story of learning she has the BRCA gene mutation and the preventative steps she has taken as well as shares poignant stories of those close to her who went through similar circumstances. One of the stories includes her close friend Kristin Hoke, an anchorwoman at the West Palm Beach ABC-affiliate, who passed away in 2010 at the age of 42 after living with breast cancer for five-and-a-half years.
Through her advocacy and BRCA Responder blog, Shainman has been providing a call to action for both women and men on the importance of doing research and speaking with a certified genetic counselor to make the best health care decisions for themselves. She was also an executive producer of the award-winning documentary, "Pink & Blue: Colors of Hereditary Cancer" which took a profound look into the BRCA world examining what it is and how the mutation puts both women and men at a higher risk of developing numerous cancers.
"'Resurrection Lily' is as helpful a book as you will find on the topic of BRCA mutations. Amy Byer Shainman has deftly intertwined crucial scientific information with moving stories of how she, her family and her friends have navigated this complex genetic issue." – Barron H. Lerner, MD, PhD, author of "The Breast Cancer Wars: Hope, Fear and the Pursuit of a Cure in Twentieth-Century America
"I hope that soon there will be research that provides less invasive cancer risk reduction options for women than having to undergo mastectomy and ovary removal. Yes, I want better options for my daughter," said Shainman. "However, until those discoveries are made, men and women will continue to have to make challenging decisions surrounding their increased risk for cancer."
"Resurrection Lily" presents a vulnerable look at Shainman's experience with the BRCA gene mutation as well as her devotion to advocate for and educate others facing the same daunting reality as she once did while providing lifesaving information from her doctors, top medical experts in cancer genetics and whispered guidance from her grandmother Lillian who passed away from cancer at the age of 33.
Shainman will be holding a book launch and signing event at The Palm Beach Book Store located at 215 Royal Poinciana Way, Palm Beach, Florida on Friday, March 8, 2019 from 5:30 p.m. to 6:30 p.m. and is available for interviews. To learn more please visit, http://www.brcaresponder.com.
"Resurrection Lily: The BRCA Gene, Hereditary Cancer & Lifesaving Whispers from the Grandmother I Never Knew"
By Amy Byer Shainman
ISBN: 978-1-4808-6706-2 (sc); 978-1-4808-6708-6 (hc); 978-1-4808-6707-9 (e)
Available through Amazon, Barnes & Noble and Archway Publishing
About the author
Amy Byer Shainman, also known as BRCA Responder, is a patient advocate who provides support and education surrounding BRCA and other hereditary cancer syndromes. She's the executive producer of the award-winning documentary Pink & Blue: Colors of Hereditary Cancer and co-creator of #GenCSM (Genetic Cancer Social Media). She is a BRCA1 gene mutation carrier and a "previvor" – meaning she is a survivor of a predisposition to cancer. In 2010, she had two prophylactic surgeries to drastically reduce her cancer risk; a nipple sparing, skin-sparing mastectomy with reconstruction and oophorectomy with hysterectomy. Shainman has been featured in Cure Magazine, The Jewish Journal and The Palm Beach Post, as well as numerous live and taped television and radio segments nationwide. As a digital ambassador for the National Society of Genetic Counselors gene pool, she is considered one of fifteen influencers who have unique perspectives and knowledge in the fields of genetics and genetic counseling. Shainman's articles have been published in The American Journal of Managed Care and Oncology Nursing News and Pink & Blue 2 is currently in production. She received a B.A. in Social Sciences and Communications from the University of Southern California and currently lives in South Florida with her family.
Review Copies & Interview Requests:
LAVIDGE – Phoenix
Lauren Dickerson
480-998-2600 x 601
ldickerson(at)lavidge.com
General Inquiries
LAVIDGE – Phoenix
Danielle Grobmeier
480-998-2600 x 557
dgrobmeier(at)lavidge.com