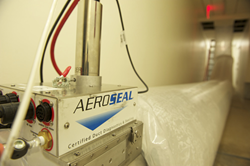 Once leaks in the ductwork are repaired, replacing the furnace or air conditioner often becomes unnecessary
CHICAGO (PRWEB) April 03, 2019
Before purchasing a new furnace or air conditioner, homeowners should first examine their home's ductwork to ensure its in good working order. That's one of the key points made earlier today by HVAC expert Ken Summers speaking at the 2019 National Home Performance Conference being held this week in Chicago. Summers, co-founder of Comfort Institute, an international home performance research, training and consumer protection organization, highlighted the importance of taking a whole-system approach to heating and cooling systems rather than focusing solely on the box itself.
"No matter how big or how high the efficiency rating may be for a particular furnace or air conditioner, that unit simply won't perform anywhere close to its potential if there are leaks in the connecting ductwork," said Summers. "In fact, we've found that in many cases, once the ductwork is repaired, the homeowner finds that replacing the air conditioner or furnace becomes unnecessary."
According to Summers, the average ductwork in U.S. homes today have leakage rates of 15% or more. That means that much of the air that is heated or cooled by the HVAC system never reaches its intended destinations. As a result, many homeowners suffer from uneven room-to-room temperatures and high utility bills. With the recent introduction of advanced sealing technology, however, Summers believes that this problem should be an easy one to solve.
"With most residential ductwork hidden behind walls, under insulation or other hard-to-access locations, finding and manually sealing leaks is a nearly impossible task," said Summers. "Few homeowners are willing to tear into walls and rip through insulation in order to inspect the duct system for leaks. Fortunately, advanced duct sealing technology is now available that makes duct sealing quick, simple and highly effective."
Summers shared information about a new duct sealing technology developed by the U.S. Department of Energy that finds and seals leaks from inside the duct system. The sealant, known as aeroseal, is blown into the interior of the ductwork as an aerosol mist. The microscopic sealant particles are then drawn to the leaks and form a bond around the holes until they are completely sealed.
During the sealing process, the computer-controlled aeroseal system measures the leakage rate in real time so the technician knows when the ductwork is properly sealed. When sealing is completed, a final report is generated that gives the homeowner specific details of before and after results.
"Once the ductwork is properly sealed, the furnace and air conditioner can do the work they are designed to do," said Summers. "Typically, homeowners feel the positive effects right away. Rooms that were once cold in the winter and hot in the summer are now comfortable year-round."
According to Summers, sealing ductwork as part of a whole-system approach to heating and cooling will also have a significant impact on home energy usage. By eliminating leaks in the ductwork, the average homeowner can reduce his or her annual energy bill by 15 percent or more.
For more information about Ken Summers and the Comfort Institute, visit http://www.comfortinstitute.org. To learn more about duct sealing and aeroseal technology, visit http://www.aeroseal.com.