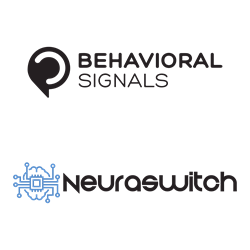 The recent industry growth in AI-powered support platforms and technology has created tremendous demand and a value-add for conversational AI - a demand that Neuraswitch is addressing by providing exceptional customer engagement through their service offerings. - Rana Gujral, Behavioral Signals CEO
LOS ANGELES (PRWEB) February 18, 2020
Behavioral Signals, a Los Angeles-based software company and leading provider in emotion artificial intelligence for speech recognition technology, announces its partnership with Neuraswitch to offer emotion and behavioral call summaries as part of their Customer Experience Analysis Solution.
The solution will leverage Behavioral Signals' OliverAPI and its multitude of metrics to provide an account of both the customers and the CSR/Agent's emotional states during a conversation. Courtesy of Oliver ASR+, the customer solution will now be able to provide full transcriptions of the interactions in its entirety. Due to the wealth of data that is able to be extracted from emotional analysis and turned into actionable intelligence, this information will help transform conversations into "Conversations that your Customers will Love".
"We are thrilled to work with Neuraswitch to help expand upon the offerings and capabilities within conversational AI," said Rana Gujral, CEO at Behavioral Signals. "The recent industry growth in AI-powered support platforms and technology has created tremendous demand and a value-add for conversational AI - a demand that Neuraswitch is addressing by providing exceptional customer engagement through their service offerings. Our goals align well with those of Neuraswitch's and we believe this partnership paves the path to address a number of intriguing use cases and opportunities to build more applications in the future."
Behavioral Signals and Neuraswitch share the commitment to providing exceptional customer service through new solutions powered by emotion artificial intelligence. This partnership not only cements the capabilities of emotional analysis but also the power of real-time data solutions to make better, faster and stronger decisions.
"Partnering with Behavioral Signals and leveraging the Oliver API is a massive win for all current and future Customers of Neuraswitch as it enhances our ability to deliver superior emotional analysis in real-time and post-call," said Brian Matthews, CEO at Neuraswitch. "With call centers starting to adopt newer technologies which enhance the view of both the agent and customer, our partnership will continue to deliver solutions at the forefront of challenging the status quo."
About Behavioral Signals
Founded in 2016, Behavioral Signals enhances communication between humans and human-to-machine by deducing intelligent and actionable insights from voice using deep learning and NLP. Their robust Oliver API is able to not only discover genuine emotion but also predict the speaker's intent via behavioral analysis. Behavioral Signals offers a new level of customer satisfaction and understanding to, but not limited to, the technology, education, retail, and healthcare industries. They have offices in Europe and Los Angeles, CA. For more information visit https://behavioralsignals.com/.
About Neuraswitch
Neuraswitch was founded by a team of call center professionals who wanted to redefine the customer experience by creating a unique cloud contact center solution with Artificial Intelligence built right into the platform. Neuraswitch is the creator of ConnexionsCX, a next-generation customer experience platform that leverages the power of human emotions and behavioral analytics to provide unique customer experiences. For more information, please visit https://neuraswitch.com/.