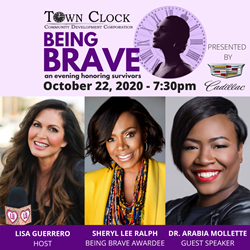 "We empower survivors of domestic violence to transform their lives when we provide them a safe place to live, allow them time to heal, and give them the skills they need to succeed." Rev. Susan Kramer-Mills
NEW BRUNSWICK, N.J. (PRWEB) October 21, 2020
Long before Covid-19, survivors of domestic violence knew all too well what it was like to endure days of social distancing, to suffer years of isolation, and to yearn desperately for a cure for their lives. They longed for someone to see them, to hear them, to help them. Being Brave 2020 calls for an end to the pandemic of domestic violence by listening to survivors and then giving them the comprehensive support they need to changes their lives.
"Preliminary research shows that domestic violence has worsened during Covid-19, but we will not know the full effect for years," says Reverend Susan Kramer-Mills, executive director of the Town Clock Community Development Corporation. TCCDC is one of only 40 facilities in the US providing permanent, affordable housing with supportive services to survivors of domestic violence.
"What I do know is that we empower survivors of domestic violence to transform their lives when we provide them a safe place to live, allow them time to heal, and give them the skills they need to succeed," points out Kramer-Mills. Being Brave 2020 raises awareness for this housing-first solution.
Being Brave 2020 will be an online event (Thursday, October 22, 2020, at 7:30 p.m.) celebrating the inspiring stories of Town Clock CDC residents and other survivors. Entertainer Sheryl Lee Ralph will be honored with the Being Brave Award for empowering women through her philanthropy. New Jersey heroes to be honored for helping survivors through their community service will be: Leslie Maxie, OLY, Maxie Media Group, (Outstanding Advocate Award); Det. Danny Gallardo, New Brunswick Police Department, (Outstanding Provider Award), and Debbie Maddock, Sophie's Bistro, (Outstanding Volunteer Award). Honoree bios. The event will highlight, #HearMeSeeMe a unique art program that is helping residents find their voices. #TheManStand will feature the stories of men who stand up to domestic violence.
Returning as Being Brave's Presenting Sponsor is Cadillac. The Gold Sponsor is Sandra Soriano, Vice President, Town Clock CDC Board of Directors. The Champion Sponsor: Bentley Dock. Full sponsor list.
"We are honored to partner again with Town Clock CDC on Being Brave, especially in the midst of a global pandemic as we purpose to never stop arriving. Unprecedented times and difficult circumstances are not new to us and the community of domestic violence survivors. During times like this, we must continue to demonstrate flexibility, agility and resilience as we're on a journey to redefining the boundaries and limits of mobility through groundbreaking innovation," said Alexis Kerr, head of Multicultural Marketing at Cadillac.
Hosting again this year will be Lisa Guerrero, Inside Edition's award-winning, internationally acclaimed chief investigative journalist. Featured advocates and entertainers include: Dr. Arabia Mollette, Covid-19 physician, health expert and survivor; Melonie Daniels, international singer and performer; Dr. Melanie R. Hill, Gospel Soul violinist; Ahmed "JKing" Wallace, performer, and Lauren Weinstein, award-winning artist & cartoonist. Full lineup and bios. Initial press release.
Domestic Violence
According to the National Domestic Violence Hotline, domestic violence is a pattern of behaviors used by one partner to maintain power and control over another partner in an intimate relationship. It can include physical and sexual violence, psychological abuse and financial control. The National Coalition Against Domestic Violence finds that 57% of homeless women cite Domestic Violence as cause of their homelessness, and 33% of women have experienced domestic violence in their lifetime. The Childhood Domestic Violence Association cites that children of domestic violence are six times more likely to commit suicide, 50% more likely to abuse drugs and alcohol, 74% more likely to commit a violent crime and three times more likely to repeat the cycle of abuse in adulthood.
Town Clock CDC – 1 of 40 in US
Town Clock Community Development Corporation is a nonprofit, 501(c)3 organization http://www.TownClockCDC.org. Town Clock CDC's facility (Dina's Dwellings) opened in April 2016 after the sanctuary of the 200-year-old First Reformed Church of New Brunswick was transformed into 10 long-term affordable housing units with supportive services for survivors. In October 2020, Town Clock CDC expanded its facility by transforming the church's sexton house into a home for a mother and up to five children. This housing model is one of only 40 establishments of its kind in the entire United States, and remains the largest, permanent housing program for survivors of domestic violence and their children in New Jersey. In 2019, Town Clock CDC launched the Being Brave Event & Award.