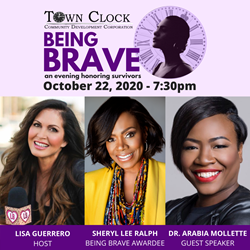 "I am honored and humbled that Town Clock Community Development Corporation has named me their 2020 Being Brave Award Recipient. The work Town Clock does to support women and children who have escaped abuse is incredible." Sheryl Lee Ralph
NEW BRUNSWICK, N.J. (PRWEB) September 14, 2020
Being Brave 2020 will be a virtual celebration of the enduring and creative strength of survivors who are rebuilding their lives after domestic violence. This uplifting and inspirational broadcast will take place on Thursday, October 22, 2020, at 7:30 PM.
"As part of their journey to rebuild their lives, we empower our residents to fulfill their dreams, which is an essential part of their recovery. One way we do this is through art. There is no way to measure the power and importance of being in the presence of a survivor when she sees her first watercolor printed professionally and ready for her signature as the artist. To witness her healing tears of joy is why we do this work. It deepens the resolve of our entire Town Clock team to help transform the lives of as many survivors as we can," says Reverend Susan Kramer-Mills, executive director of the Town Clock Community Development Corporation (TCCDC), which is one of 40 facilities in the US providing permanent, affordable housing with supportive services to survivors of domestic violence.
Town Clock residents have been participating in a yearlong art residency with Lauren Weinstein, a professional, award-winning artist and cartoonist who has been featured in the New Yorker. During Being Brave 2020, Weinstein will talk about her work with the residents, their art and a soon-to-be published comic novella based on the experience of domestic violence survivors.
Being Brave Event & Award
Lisa Guerrero, Inside Edition's award-winning, internationally acclaimed chief investigative journalist, will return to host Being Brave 2020. "As a journalist, artist and spokeswoman for social justice, I believe that every woman deserves to live in a safe community. I was so inspired by last year's Being Brave event, that I wanted to partner with Town Clock again this year," says Guerrero. Joining her will be Sheryl Lee Ralph, Tony-nominated actor and philanthropist, and Dr. Arabia Mollette, a doctor fighting COVID-19 and a survivor of domestic violence. The evening will feature musical performances and impassioned words from an array of artists, advocates and supporters of this cause.
Sheryl Lee Ralph will receive the 2020 Being Brave Award for outstanding leadership in empowering women. "I am honored and humbled that Town Clock Community Development Corporation has named me their 2020 Being Brave Award Recipient. The work Town Clock does to support women and children who have escaped abuse is incredible and reminiscent of the work we launched over 30 years ago with The D.I.V.A. Foundation. I am excited to share in this season of awareness and partner with you to raise awareness and expand your vision," says Ralph. Her D.I.V.A. Foundation raises awareness for HIV/AIDS and other life-threatening diseases, including COVID-19, and is a strong proponent for supporting movements that empower women.
The evening also will feature the inspiring life story of Dr. Arabia Mollette is a lifestyle physician and health expert from the South Bronx who has experienced tragedies including domestic violence, yet vowed to make a difference in her community, a community plagued by crime and poverty. For additional information and ticket purchases, visit http://www.townclockcdc.org/being-brave.
Sheryl Lee Ralph
Sheryl Lee Ralph is a multifaceted artist who continues to blaze trails in the entertainment industry. Whether she appears on TV, film, or the Broadway stage, Sheryl Lee Ralph also sparkles as a director, voice and screen actor, author, singer, philanthropist, community activist, wife, and mother. She can be seen in the Freeform series Motherland: Fort Salem, performing as US President Kelly Wade and closing out the last season of Ray Donovan as Mickey's love, Claudette. Ms. Ralph recently launched "DIVA Defined," a podcast featuring powerful women making moves in their various career paths, and a new digital talk series, "DIVAS Simply Quarantined," on Facebook LIVE. Aside from her career pursuits, Sheryl is a fierce community activist and advocate. Ralph produces the annual benefit concert, DIVAS Simply Singing!, which raises awareness for HIV/AIDS and other life-threatening diseases, including COVID-19. This year will mark the 30th year of the event. DIVAS Simply Singing…Virtually! will culminate DIVAS Health Awareness Week starting on World AIDS Day (December 1st – 6th) and features an entire week of amazing streamed events, featured performances, panels, and other educational content. The concert event will be televised locally in Los Angeles on KTLA 5 on December 5, 2020 from 7pm-9pm Pacific.
Lisa Guerrero
Award-winning journalist Lisa Guerrero is one of the most popular and hardworking personalities on television. As the chief investigative correspondent for Inside Edition, America's top-rated syndicated news-magazine show, she travels the country covering crimes, scams, cold cases and consumer reports. Her brand of tough, confrontational reporting has made her a fan favorite, and she has won eight National Headliner Awards, twice for "Best Consumer Reporting," five times for "Best Investigative Report," and once for Best In Show, beating CNN's Anderson Cooper, among notable others. She's been honored twice by The National Press Club for consumer reporting and animal abuse investigations.
Dr. Arabia Mollette
Dr. Arabia Mollette is a lifestyle physician and health expert who hails from the South Bronx, NY. She is the embodiment of strength, perseverance and empowerment. She is living proof that you can overcome adversity, as she is a product of the foster care system, homelessness and poverty. In the span of six years, Dr. Mollette witnessed her mother attempt suicide, experienced domestic violence and suffered the traumatic loss of her four-month-old son at the hands of his father. Six years later, her youngest sister was murdered while riding in a friend's car. These traumatic incidents, in addition to countless others, fueled Dr. Mollette's desire to study medicine in order to make a difference in her community, a community plagued by crime and poverty.
Domestic Violence
According to the National Domestic Violence Hotline, domestic violence is a pattern of behaviors used by one partner to maintain power and control over another partner in an intimate relationship. It can include physical and sexual violence, psychological abuse and financial control. The National Coalition Against Domestic Violence finds that 57% of homeless women cite Domestic Violence as cause of their homelessness, and 33% of women have experienced domestic violence in their lifetime. The Childhood Domestic Violence Association cites that children of domestic violence are six times more likely to commit suicide, 50% more likely to abuse drugs and alcohol, 74% more likely to commit a violent crime and three times more likely to repeat the cycle of abuse in adulthood.
Town Clock CDC – 1 of 40 in US
Town Clock Community Development Corporation is a nonprofit, 501(c)3 organization http://www.TownClockCDC.org. Town Clock CDC's facility (Dina's Dwellings) transformed the sanctuary of the 200-year-old First Reformed Church of New Brunswick into 10 supportive, long-term affordable housing units for survivors. It is one of only 40 establishments of its kind in the entire United States. When the facility opened in April 2016, it instantly became the largest, permanent housing program for survivors of domestic violence and their children in New Jersey.
According to a Town Clock CDC resident: "Town Clock opens your mind to where you can sit…to be able to make plans now, I'm stable so I don't have to worry about where I am going to live. I've been here a year so I feel comfortable now, so now let me start making plans towards the future."
###