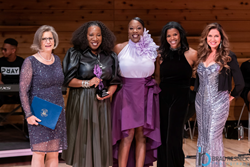 Affordable, permanent housing with supportive services is needed for survivors of domestic violence to rebuild their lives. Town Clock CDC
NEW BRUNSWICK, N.J. (PRWEB) November 21, 2019
More than 500 supporters of Town Clock Community Development Corporation (Town Clock CDC) packed the Nicholas Music Center last week to honor the bravery of domestic violence survivors at Being Brave – An Evening Honoring Survivors.
Through song, dance, and spoken word, attendees experienced the story of a survivor: from her hopes and dreams – to the realization that she was abused – to the hope for a second chance – to the peace and safety provided by a forever home that allows her to rebuild a life for herself and her children. Town Clock CDC provides this forever home along with supportive services including therapy, educational, career and financial counseling.
Town Clock's Vision
"Survivors of domestic violence often need as much as five years to recover from long-term abuse," says Reverend Susan Kramer-Mills, executive director of Town Clock CDC. She along with her husband/pastoral partner and the congregation of the First Reformed Church in New Brunswick had the vision to convert the 200-year-old facility into a sanctuary for abused women and children.
"With 10 apartments, Town Clock is the largest of only two facilities in NJ and one of only 40 in the US offering the permanent, affordable and supportive housing survivors need. Our goal is to inspire and train other organizations to follow our model. Our vision is to have a national training center and encourage the development of more facilities so there are two in every state, 100 overall," explains Rev. Kramer-Mills.
Being Brave host, Lisa Guerrero, of Inside Edition, explained that the show began with the song "Don't You Worry 'Bout A Thing" intentionally. "In many ways, that's where our Town Clock survivors are in their lives right now. They are safe. They are in their own permanent, affordable, supportive apartments. And as we all well know, having a forever home allows you time to simply be. Be still. Be safe. Be healed."
Being Brave Honorees
Tarana Burke, founder of the #MeToo Movement, received the inaugural Being Brave Award.
Referring to the people at Town Clock, Tarana Burke said they "get up every day, come to work, listen to these stories, support these people, try to find money at the same time, and have a full life that that Is not affected by your work. I know what that life is. And I know that the people who are at Town Clock, who are writing grants that are due at midnight, who are throwing fundraisers and dinners and doing whatever they can."
"So it's important that on nights like tonight to see a room filled like this, really makes me feel so good to know that people get it. You may not be able to volunteer at a shelter, but if you can show up on a night like tonight and pay for that ticket. Trust me, whatever you paid is going directly into a service that is absolutely necessary. So, thank you for the people who came out to support this and thank you Town Clock for this amazing award," added Burke who recently launched the #MeTooVoter Movement.
In addition, local community leaders were also honored for their work in domestic violence and their support for Town Clock CDC. Dr. Penelope Lattimer received The Outstanding Volunteer Award, which recognizes a driving force in volunteering and/or philanthropy. Ms. Elaine Hewins received The Outstanding Advocate Award, which recognizes work that challenges perceptions and educates the public about domestic violence. Ms. Louise Ragusa received The Outstanding Provider Award, which recognizes providers of emergency services to survivors of domestic violence.
Being Brave Sponsors
Cadillac was the presenting sponsor for Being Brave. According to Alexis Kerr, head of Multicultural Marketing for Cadillac, "We are especially honored to support Town Clock and the important work being done by this influential organization. At Cadillac, we invest in partnerships with organizations like Town Clock because we believe they are the heartbeat of our community."
Being Brave also was sponsored by Hilton, White House Black Market, Lucid Bliss and Liquid Hair Salon. A full list of sponsors can be found on http://www.BeingBraveEvent.org.
Inspiring Performances
Many celebrities, performers and advocates came together to create an uplifting and inspirational evening. (Video highlights)
Monique Walker, internationally acclaimed Grammy Award Winning Gospel artist.
Melissa Bethea, featured vocalist on several Gospel albums with Bishop Hezekiah Walker, Lance Williams, JJ Hairston and the Potter's House of Denver Choir.
Bindi Liebowitz, singer, songwriter and contestant on The Voice Season 11 and American Idol.
American Repertory Ballet's mission is to bring the joy, beauty, artistry and discipline of classical and contemporary dance to New Jersey and nationwide audiences and to dance students through artistic and educational programs.
Shavar D. Jeffries, Esq., the president of Education Reform Now and Democrats for Education Reform.
Ursula Liebowitz, Outspoken Sexual and Domestic Violence Advocate.
Tiffany Mack, celebrity stylist and founder of Lucid Bliss.
Dustin Ross, co-host of the podcast, The Friend Zone and writer of late-night weekly talk show "The Read with Kid Fury & Crissle" (Fuse network).
Tahesha Way, Secretary of State for New Jersey.
Phaidra Knight, world rugby Hall of Famer.
John Anderson, president New Brunswick City Council.
The Man Stand
In an evening filled with poignant and defining moments, one of the most emotional was The Man Stand led by Shavar Jeffries, a New Jersey attorney who has dedicated his life to ending Domestic Violence. He shared the details of how his mother was killed by his stepfather in 1985 and the impact that tragedy had on his life and his sister's life. During Being Brave, the stage was filled with men standing shoulder-to-shoulder, to show their support to end the devastating cycle of domestic violence.
Town Clock CDC – Largest Facility in NJ, 1 of 40 in US
Town Clock Community Development Corporation is a nonprofit, 501(c)3 organization http://www.TownClockCDC.org whose mission is to provide affordable homes and supportive services to survivors of domestic violence and their children. Town Clock CDC transformed the sanctuary of the 200-year-old First Reformed Church of New Brunswick into 10 supportive, long-term affordable housing units for survivors.
In 1971 the first reformed church of New Brunswick was giving shelter to a woman who was trying to escape her violent boyfriend. When he found out where the woman was staying he came to the church with the intention of burning the church to the ground.
The congregation of First Reformed Church took this tragedy and turned it into inspiration. Recognizing that 80% of the historic interior had been destroyed they converted that portion of this 200-year-old structure into permanent affordable supportive housing for women and their children's who had escaped domestic violence.
Domestic Violence
According to the National Domestic Violence Hotline, domestic violence is a pattern of behaviors used by one partner to maintain power and control over another partner in an intimate relationship. It can include physical and sexual violence, psychological abuse and financial control.
The National Coalition Against Domestic Violence finds that 57% of homeless women cite Domestic Violence as the cause of their homelessness, and 33% of women have experienced domestic violence in their lifetime.
The Childhood Domestic Violence Association cites that children of domestic violence are six times more likely to commit suicide, 50% more likely to abuse drugs and alcohol, 74% more likely to commit a violent crime and three times more likely to repeat the cycle of abuse in adulthood.