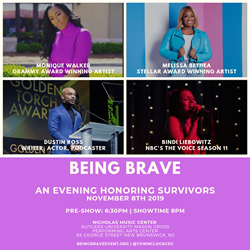 Town Clock CDC is the largest Facility in NJ and 1 of 40 Nationwide offering permanent housing and supportive services for domestic violence survivors and their children.
NEW BRUNSWICK, N.J. (PRWEB) November 04, 2019
On Friday, Nov. 8 at 8:00 PM, gospel stars Monique Walker, Melissa Bethea and other advocates will gather at the Nicholas Music Center for an evening of entertainment and inspiration to honor the bravery of domestic violence survivors and supporters at Being Brave – An Evening Honoring Survivors. The event will be hosted by Inside Edition's Lisa Guerrero and will feature Tarana Burke as she receives the inaugural Tarana Burke Being Brave Award. To find out more about Being Brave, visit http://www.BeingBraveEvent.org.
Being Brave – An Evening Honoring Survivors was created by Town Clock Community Development Corporation(TCCDC) to bring awareness that 57% of homeless women cite domestic violence as the cause of their homelessness. TCCDC's long-term strategic vision is to establish at least two permanent, affordable, supportive facilities in each of our 50 states. Currently TCCDC is one of only 40 establishments of its kind in the entire United States. When the facility opened in April 2016, it instantly became the largest, permanent housing program for survivors of domestic violence and their children in New Jersey. This event will start as the launch pad for this strategic vision.
Beginning at 6:30 PM, Dustin Ross, co-host of the podcast, The Friend Zone and writer of late-night weekly talk show "The Read with Kid Fury & Crissle" (Fuse network), will host the event's purple carpet VIP reception, where attendees will mingle with advocates and supporters of domestic violence reform.
Tarana Burke, founder of the #MeToo Movement and recently launched #MeTooVoter campaign will be the first recipient of the Tarana Burke Being Brave Award for outstanding leadership in breaking the cycle of abuse. The event will feature The Man Stand led by Shavar Jeffries, a New Jersey attorney who has dedicated his life to ending Domestic Violence, after his mother was killed by his stepfather in 1985. The men will take the stage and take a stand, shoulder-to-shoulder, to show their support to end the devastating cycle of domestic violence.
Community leaders will be recognized for their work in the domestic abuse space as well as their support for TCCDC. Dr. Penelope Lattimer will receive The Outstanding Volunteer Award, which recognizes a driving force in volunteering and/or philanthropy. Ms. Elaine Hewins will receive The Outstanding Advocate Award, which recognizes work that challenges perceptions and educates the public about domestic violence. Ms. Louise Ragusa will receive The Outstanding Provider Award, which recognizes providers of emergency services to survivors of domestic violence.
Cadillac is the presenting sponsor for Being Brave. In addition, the event is being sponsored by Hilton, White House Black Market, Lucid Bliss, Liquid Hair Salon. PeaK Unleashed and Josefinas, Portugal.     
Confirmed Appearances by:
Tarana Burke, activist and advocate that has worked at the intersection of racial justice, arts and culture and sexual violence.
Lisa Guerrero, an award-winning investigative journalist for America's number one rated newsmagazine, Inside Edition, an acclaimed Motivational Speaker, Emcee, and Host.
Shavar D. Jeffries, Esq., the president of Education Reform Now and Democrats for Education Reform.
Ursula Liebowitz, Outspoken Sexual and Domestic Violence Advocate.
Tiffany Mack, celebrity stylist and founder of Lucid Bliss.
Monique Walker, internationally acclaimed Grammy Award Winning Gospel artist.
Melissa Bethea, featured vocalist on several Gospel albums with Bishop Hezekiah Walker, Lance Williams, JJ Hairston and the Potter's House of Denver Choir.
Bindi Liebowitz, singer, songwriter and contestant on The Voice Season 11 and American Idol.
American Repertory Ballet's mission is to bring the joy, beauty, artistry and discipline of classical and contemporary dance to New Jersey and nationwide audiences and to dance students through artistic and educational programs.
Phaidra Knight, a World Rigby Hall of Fame Athlete, sports media analyst/host, motivational speaker, lawyer and entrepreneur.
Dr. Melanie R. Hill, Gospel violinist.
Town Clock CDC – Largest Facility in NJ, 1 of 40 Nationwide
Town Clock Community Development Corporation is a nonprofit, 501(c)3 organization http://www.TownClockCDC.org whose mission is to provide affordable homes and supportive services to survivors of domestic violence and their children. Town Clock CDC transformed the sanctuary of the 200-year-old First Reformed Church of New Brunswick into 10 supportive, long-term affordable housing units for survivors.