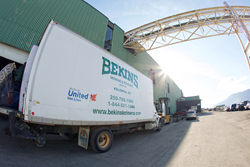 One of the best things you can do is to get an in-home survey.
KELOWNA, BC (PRWEB) March 21, 2017
If it seems too good to be true, it probably is. That's one of the key messages the long distance movers at Bekins Moving and Storage want consumers to consider when they're shopping for moving quotes. This warning comes on the heels of a number of complaints from families who ended up having to pay larger-than-expected bills for moving services.
The grievances were brought to light in a recent CBC article. In one instance, a family was forced to pay more than double what they were originally quoted for moving services.
Unfortunately, this happens far too often, says Nathan Miller, owner of Bekins' Kelowna branch. However, with a little due diligence, he adds consumers can protect themselves from this eventuality.
"One of the best things you can do is to get an in-home survey," says Miller, a Kelowna mover with 20 years of experience. "Long distance movers base their estimates on the weight of the goods, and our estimators have many, many years of surveying inventory. We work room by room and we survey everything in the house. We're usually within 10 per cent of the actual weight."
Bekins stands by this assertion. If the actual weight of the goods exceeds the quote by more than 10 per cent, they'll eat the surplus cost.
Online estimates have become a common trend in the moving industry. Miller worries that this DIY approach is a potential pitfall for consumers. These discount movers allow people to go online and input the items they want moved and generate a quote on their own.
"Many times, there are things and places customers might not think to count," says Miller. "Do you have a hidden storage room? Are there items in the garage?
"When they're not including all of those other areas, it's very easy for them to get a quote that's out to lunch. That's why it's important to have someone come to your home."
Alternatively, when a professional Kelowna mover like Bekins provides an in-home estimate, they create an electronic inventory of all of the items the client wants moved. Miller says this puts accountability not only on the customer, but also on the moving company.
"We want to be transparent in everything we do," he says. "This is just another layer that ensures everything is accounted for. It also gives the customer a chance to double-check everything."
Another risk of using an online mover, says Miller, is that it's hard for consumers to really know whom they're dealing with.
"A lot of those online moving companies, they don't have any trucks or moving equipment," he explains. "They just hand it off to a third-party discount mover."
Scaling is another important component of an accurate moving quote. Before Bekins sends a moving truck to collect a client's goods, they'll first weigh the truck at a government-approved facility. Once it's loaded, they'll return to weigh it again to determine the actual weight of the load.
"We use government-approved scale houses; they're verified and checked continually and it gives a printed, date-stamped location and address," says Miller.
"There's nothing hidden. You can ask to see those scale tickets. You can even ask to be present when your goods are being weighed. When you ask your mover about scaling, they should be taking the time to explain how this works. If they can't, it's a huge red flag."
When it comes to choosing long distance movers, Miller says there are some easy ways to ensure the company is reputable. This includes: asking for references; talking to family and friends about their moving experiences; asking about van line affiliations; seeing if they're affiliated with the Canadian Association of Movers (CAM); and seeing whether the mover is Better Business Bureau-accredited.
About Bekins Moving and Storage
With a history dating back to 1891, Bekins Moving & Storage has developed a trusted reputation across North America. As the largest moving company in Western Canada, Bekins offers a complete range of professional moving and storage services for both residential and commercial customers. This includes services for long-distance and last-minute moving, as well as moving specialty items like pianos, hot tubs, safes and industrial equipment.
For more information, please contact:
Nathan Miller
Owner
Bekins Moving & Storage Kelowna
nathanm(at)bekins(dot)ca
250-766-1966
http://www.bekinskelownamovers.com