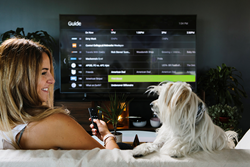 "With Thea, customers are able to select the program package they want, download our app and begin watching within minutes."-Terry Koosed
LOS ANGELES (PRWEB) September 01, 2020
Bel Air Internet, a boutique Internet and communications firm, based in Los Angeles, has just launched TheaTV, an exclusive streaming television service that delivers local and cable channels to its customers without the need for any in-home installation or equipment.
As customers turn more to cord-cutting, Bel Air Internet knew they wanted to add a streaming television option to their array of services which include Internet, Wi-Fi, Phone and DIRECTV. "With Thea, customers are able to select the program package they want, download our app and begin watching within minutes," explains Terry Koosed, founder and President of Bel Air Internet. "It takes the best of traditional broadcast, including the local channels, and matches it with the convenience of Internet streaming television."
The new service offers packages ranging from a "locals only" basic package that delivers all the Southern California locals to a more comprehensive All-Access package, and features including a Cloud DVR and TVeverywhere. Koosed is confident the solution will work for those who seek more than just a Netflix subscription but are tired of paying a premium for expensive cable television service, which delivers hundreds of channels the customer may not want or need.
Bel Air Internet currently delivers its services to over 75,000 daily users in Southern California and Las Vegas across residential properties, commercial developments, studios, businesses, hotels and student housing complexes, and has added Thea as an option across all verticals.
"With television being more essential than ever for our entertainment after months of quarantine, we are thrilled to have a solution that is cost-effective and flexible for our customers," Koosed says.
About Bel Air Internet
Bel Air Internet is a boutique Internet and communications firm delivering services to over 70,000 daily users throughout Southern California and Las Vegas. With full control over its private state-of-the-art fiber/wireless network, they provide Internet, Wi-Fi, television and voice services to customers across residential buildings, commercial properties, student housing developments, film studios, hotels, live-streams and temporary events.
Bel Air Internet's philanthropic mission is to help Bridge the Digital Divide and ensure all children have equal access to broadband Internet.