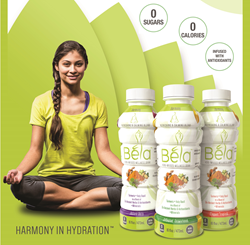 ATLANTA (PRWEB) May 09, 2019
Béla, the Atlanta-based wellness beverage brand, announced today that it will soon be available at LifeCafe fast casual restaurants in Life Time's athletic resort destinations nationwide. Béla will implement a multi-faceted marketing campaign through 2019 to support the launch at Life Time, the nation's premier healthy lifestyle brand.
Inspired by Ayurveda, the ancient sister-science of Yoga, Béla combines ancient ingredients like Turmeric, Tulsi, Ginger and Amla with minerals and vitamins in 0 sugar, 0 calorie blends. The combination of ingredients is inspired by holistic mind-and-body wellness exemplified by Yoga, and work to support immunity, promote calming, and support optimal hydration. The first blend to launch in Spring 2018 was Béla Harmony featuring a proprietary blend of herbs and minerals in two flavors, Elegant Tropical and Plain Unsweetened. Béla grew rapidly to reach over 50 retail locations around Atlanta in less a year, enthusiastically embraced by Atlanta's yoga and wellness community.
In addition to being Béla's first national customer, Life Time has special significance for the founder-couple of Béla, Atul Agarwal and Madhu Deshmukh.
"Béla was born out of a personal need for healthy hydration to complement my wife's health and fitness needs, and a key part of that was our membership at Life Time," said Atul Agarwal, Béla's Founder and CEO. "While Life Time enabled her to pursue a combination of aerobics, yoga, personal training, sauna etc. to address her health needs, I was creating herbal infusions at home to complement and support her goals. So it is really special and exciting for us to have Life Time support us and launch Béla nationally!"
"We are always looking for healthy ways to help members refuel and replenish after their workouts," says Nickolas Bennecke, Senior Manager, LifeCafe Retail. "When the Béla founders presented their product, which aligned with our 'If it's here, it's healthy' philosophy, we were eager to add it to our offerings. The ability to offer a functional beverage that was brought to life by two of our Life Time members is truly exciting."
About Life Time – Healthy Way of Life
Life Time champions a healthy and happy life for its members across 143 destinations in 39 major markets in the U.S. and Canada. As the nation's premier healthy lifestyle brand, Life Time delivers an unmatched athletic resort experience and provides a comprehensive healthy living, healthy aging and healthy entertainment experience that goes well beyond fitness to encompass the entire spectrum of daily life for individuals, couples and families of all ages. For more information visit Life Time.
About Béla – Harmony in Hydration
Béla is a brand owned by Althea Brands, founded and headquartered in Atlanta, GA. Althea Brands combines traditional medicine and wellness knowledge with contemporary scientific research to develop natural and healthy foods and beverages. Inspired by Ayurveda, Béla was the company's first brand, launched in Spring 2018. Learn more about Béla at Drinkbela.com, and follow on Instagram (@bela_drink) and Facebook (@drinkbela).