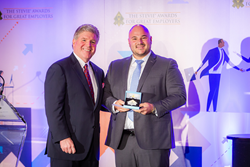 This award is a testament to our efforts in creating an inclusive and high-performing environment.
NEW YORK (PRWEB) September 25, 2018
Belatrix Software, a leading software development company, has been recognized as a great employer in the American Business Awards. At the award ceremony in New York, Belatrix received the Silver Stevie Award in the "Employer of the Year – Business Services" category. This was the third annual Stevie Awards for Great Employers.
Chosen through a unique process of public votes and scores from judges, Belatrix was recognized for its exceptional recruitment processes, developing a fun, high-performing culture, offering all employees access to industry-leading training programs, and its efforts in creating an inclusive work environment.
The Stevie Awards for Great Employers recognize the world's best employers and the human resources professionals, teams, achievements and HR-related products and suppliers who help to create and drive great places to work.
More than 550 nominations from organizations in 21 nations were submitted this year for consideration in a wide range of HR-related categories.
"It is an honor and a privilege to receive the Silver Stevie Award for Great Employers. At Belatrix, we have invested in our employees and company culture from the very beginning. A key priority is to make Belatrix an attractive place to work. This award is a testament to our efforts in creating an inclusive and high-performing environment. I am proud of the work that we do every day and want to dedicate this award to the entire Belatrix team," commented Alex Robbio, President and Co-Founder of Belatrix.
"The judges were very impressed with the quality of entries we received in the third annual Stevie Award for Great Employers. The dedication these Stevie-winning organizations have to providing great workplaces for employees was evident in each nomination," said Michael Gallagher, President and Founder of the Stevie Awards.
Earlier this year, Belatrix Software also won Silver in the American Business Awards for 'Company of the Year' and Alex Robbio won Bronze in the 'Executive of the Year' category.
About Belatrix Software
Belatrix Software helps companies thrive in the digital world. Organizations partner with Belatrix to turn ideas into high quality, innovative software based on highly-tuned Agile development processes. Customers use Belatrix's digital transformation services to create best-in-class software products, lower time to market, and gain competitive edge. Belatrix's dedicated labs, focusing on UX, continuous delivery, mobile, DevOps, and QA automation, help organizations become digital leaders.
Belatrix's clients include both established Fortune level and emerging, venture backed firms. Some of the firm's clients include Disney, Adobe, AOL, PwC, Fluor, and Shutterfly. Belatrix is a South American company with offices in Florida, New York, San Francisco, Mendoza, Buenos Aires, Bogotá and Lima. For more information, visit https://www.belatrixsf.com.
About the Stevie Awards
Stevie Awards are conferred in seven programs: the Asia-Pacific Stevie Awards, the German Stevie Awards, The American Business Awards®, The International Business Awards®, the Stevie Awards for Women in Business, the Stevie Awards for Great Employers, and the Stevie Awards for Sales & Customer Service. Stevie Awards competitions receive more than 10,000 nominations each year from organizations in more than 70 nations. Honoring organizations of all types and sizes and the people behind them, the Stevies recognize outstanding performances in the workplace worldwide. Learn more about the Stevie Awards at http://www.StevieAwards.com.