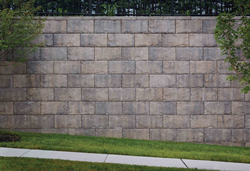 ATLANTA (PRWEB) September 27, 2019
The Belgard® Mega-Tandem™ wall system introduces the 7-inch connector, adding a 12-inch wall depth to the system. Mega-Tandem is a versatile, 3-in-1 system designed by Belgard that provides design flexibility with the natural appearance of chiseled stone in 12 different facial textures to complement any hardscape.
With the addition of the 12-inch deep option, Mega-Tandem has three face depth choices available for more design versatility. The 7-inch connector joins Mega-Tandem's 22-inch connector (for 27-inch wall depths) for gravity walls up to six feet tall and the 41-inch connector for 46-inch wall depths for gravity walls up to 10 ft. tall. The 12-inch deep system is designed for reinforced walls with stability provided in the facing and reinforced soil behind the face. This 3-in-1 system provides superior strength and can be used for reinforced walls in excess of 15 ft.
The polypropylene connection members insert into the dovetail slots of the facing panels for easy installation.
The key advantages of the 7-inch connector (12-inch depth system) vs. longer connectors include:

A more cost-effective solution when gravity walls are not required.
A more conventional capping solution when using the -Tandem Cap.
When used with the two-sided Tandem cap, the connector allows up to 12 inches of free board (stick up) at the top of the wall for a more finished appearance front and back.
The connecting members of the Mega-Tandem System creates structural integrity, while the multiple wall depths provide design flexibility. As an alternative to precast walls, Mega-Tandem provides needed stability with the more attractive look of chiseled stone.
The wall system has a running bond configuration, so no patterns are required. Meeting ASTM C-1262 standards and exceeding ASTM C-1372, the Mega-Tandem wall system is suitable for any climate, even the coldest environments, where it can withstand harsh freeze-thaw cycles. To learn more about Mega-Tandem and its new 7-inch connector, visit http://www.belgard.com.
About Belgard®
Belgard, part of Oldcastle APG, offers a complete collection of paver and wall products for outdoor living spaces, walkways, driveways, parking areas and retaining walls. Available in a range of styles, premium Belgard products have been found in America's finest homes and award-winning commercial and retail properties since 1995. For more information, visit Belgard.com or call 1-877-Belgard (235-4273).
 
Oldcastle APG is part of CRH's Building Products division. CRH is a leading global diversified building materials group, employing c.90,000 people at c.3,800 operating locations in 32 countries worldwide.