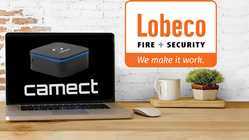 We are proud to support Camect products which access the next level of value to our customers through the combination of the excellent AI hub and the strong support and services from Lobeco in the field of security products in the Belgium, Netherlands and Luxemburg - Tim De Smedt Lobeco
BRUSSELS (PRWEB) April 22, 2021
New security system installations in Netherlands and Belgium are on the rise and household penetration is expected to increase to 35% by 2025. That could represent more than 10M additional security cameras capturing video at homes and businesses in NL and BE. All these cameras will produce a vast amount of footage that would require people to manually review if they want to understand what is happening. Some of the newer camera security systems provide motion alerts, but often have false alerts from wind, bugs, or objects that are not relevant. The Camect smart camera hub uses AI to automatically analyze camera footage and provide accurate alerts for the most important objects that people care about. Camect acts like a virtual security guard that analyzes security camera video and provides specific alerts such as Amazon delivery driver, car, person, and bicycle. Camect also stores the video from security cameras securely and locally on a device that gives people complete control over their camera data.
The accurate alerts and privacy have made Camect a popular camera hub for the US and the UK. Customers can now get Camect in NL and BE with a partnership with Lobeco. Lobeco is an independent wholesaler with more than 45 years of experience and deep expertise with security products. Lobeco features the smart camera hub within their network video recorder category. Tim De Smedt, Technical Director at Lobeco, shared his perspective on the partnership, "We are proud to support Camect products which access the next level of value to our customers through the combination of the excellent AI hub and the strong support and services from Lobeco in the field of security products in the Belgium, Netherlands and Luxemburg." Camect's founder Arup Mukherjee also shared his feedback, "Partnership with the top distributors for security helps us ensure that our customers are able get up and running with Camect quickly and have great service. We chose Lobeco due to their many years of security experience and premier support"
Camect works with many camera brands that support open standards such as RTSP and Onvif. Lobeco also provides many of these brands which provides a convenient one stop shopping experience to build a powerful AI-based security system. To learn more about Lobeco and Camect please visit the following links.
About Camect
Camect unifies security cameras, delivers actionable information in real-time, and eliminates irritating notifications with a universal secure remote access and an easy-to-configure application. Camect is a Silicon Valley company created by former Google computer scientists working alongside security industry veterans to reimagine and redefine the security camera experience. Camect is headquartered in Mountain View, California, and currently has customers in over 30 countries.
For more information, please visit camect.com
Follow us in social media facebook.com/camect, twitter.com/CamectInc , linkedin.com/company/camect