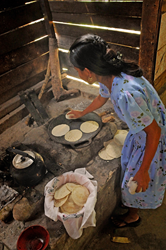 today's travellers are... seeking meaningful experiences that leave them feeling more deeply connected to the people and places they visit
SAN IGNACIO, BELIZE (PRWEB) September 11, 2018
As The Lodge at Chaa Creek prepares to launch new Belize vacation packages focusing on cultural and culinary tourism, the popular Belizean jungle Lodge's owners say a recent article in the New York Times confirms the growing appeal of cultural tourism.
Lucy Fleming, who with her husband Mick founded Chaa Creek at their family farm on the banks of Belize's Macal River, said the new "Open Hearth" project is another example of the richer, more satisfying experiences today's travellers are seeking.
"We appreciate that many of today's travelers are looking for vacation experiences that offer more than just relaxation and fun in the sun. They're increasingly seeking meaningful experiences that leave them feeling more deeply connected to the people and places they visit.
"The Open Hearth initiative is the newest addition to what we call 'connected vacations,'" she said.
Ms Fleming explained that the "Open Hearth" was designed to enhance a traditional vacation by engaging visitors with the unique history and cultures of Belize through its food.
"Over the years, both as travelers and as hosts, Mick and I came to appreciate how much you can learn about a culture through its cuisine. From ingredients to preparation through to presentation, much of a country's history and culture is reflected in food.
"And in a multicultural melting pot like Belize, blending cultural and culinary tourism with all the other elements of a great vacation can make for some very satisfying, memorable experiences, especially when travelling with children," she added.
Ms Fleming said the trend towards connecting visitors with local culture is reflected in an August 23 article in the New York Times, "Five Tips To Give Kids Some Culture and a Vacation at The Same Time," which encourages families to broaden their appreciation of the world's cultures while on holiday.
The Times article suggests seeking out local arts and crafts, taking cooking classes, visiting local markets, enjoying local music and dance and interacting with the local populace.
"It was interesting to read the article and tick off each tip as something we've been offering for years now. Mick and I have always seen education as an essential part of eco-tourism, and vacations as opportunities to broaden children's horizons," Ms Fleming, a former teacher explained.
Currently under construction at Chaa Creek, the Open Hearth kitchen will provide an interactive culinary experience that allows guests to watch, learn, and take part in the preparation of meals under the tutelage of local cooks skilled in specific areas of Belize's multicultural cooking, Ms Fleming said.
"On 'Maya Mondays', for example, guests will learn about how corn is slaked, dried, and ground on a traditional stone metate to create the masa harina, or corn flour, used in making tortillas, tamales and other meals. They'll also learn how to marinate and spice pork to recreate dishes such as Pibil and Poc Chuc as well as making Chilli Rellenos and other Maya delicacies.
"'Creole Tuesdays' may focus on the Belizean staples of rice and beans, flour tortillas and fry jacks, Belizean stew chicken, and other meals, while during a 'Garifuna Wednesday' cooks will make Sere, a delicious dish of seafood cooked in coconut milk, hudut, or mashed plantains, and other meals unique to the Garifuna.
"Mestizos and other groups including German Mennonites will also be represented as we explore the evolution of Belize, from early Maya settlement thousands of years ago, to the arrival of British and African woodcutters and settlers, the Spanish influences from neighbouring Mexico and Guatemala, the North American influences, and so on."
"In addition to food, we'll also use culturally relevant music, art, and oral history as links to culture and food," Ms Fleming added.
The Lodge at Chaa Creek, located in the Maya heartland of western Belize, has promoted cultural tourism in Belize since 1981 with onsite attractions such as the Belize Natural History Museum, the Maya Medicinal Plant Trail and the traditional Maya Organic Farm, along with a wide range of tours and excursions that include the comprehensive Belize Cultural Grand Tour that takes guests on a nationwide journey through Maya, Mestizo, Creole, Garifuna and Mennonite villages and communities.
The eco-resort has also been in the forefront of Belize's culinary tourism in developing authentic farm-to-table dining, sponsoring internationally recognised chefs to mentor local cooks, contributing to the evolution of Nouvelle Belizean Cuisine, and through participation in culinary competitions and other activities.
Ms Fleming said that combining Belizean culture and cuisine has been a labour of love.
"With European nations establishing colonies and a busy seagoing trade in sugar, timber, rum and other commodities from the 16th century up to today, the Caribbean developed a colourful, unique and very rich culinary history that we love introducing our guests to," Ms Fleming said.
"And, of course, the key is to have fun while doing it," she added.
Chaa Creek's Open Hearth is scheduled to be operational before the end of the year, and Ms Fleming encouraged travellers to contact their travel agents or Chaa Creek directly to learn more about it and other Belizean cultural vacations and attractions.
The Lodge at Chaa Creek is a multi-award winning eco resort set within a 400-acre private nature reserve along the banks of the Macal River in Belize. It was recognised by National Geographic with first place honours at the 2017 World Legacy Awards held in Berlin.