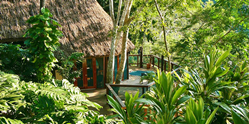 If nothing else, COVID-19 has highlighted that we're all in this together
SAN IGNACIO, Belize (PRWEB) March 25, 2020
One of Belize's most popular eco-resorts will be closing its doors from March 27 until the end of April, 2020, in the interests of protecting guests and staff from any possible exposure to the Coronavirus (COVID-19), The Lodge at Chaa Creek's owners have announced.
As of March 23, 2020, Belize has still remained free of the worldwide pandemic, but founding owners Mick and Lucy Fleming said they are taking proactive steps to ensure everyone's safety and wellbeing.
After nearly forty years of continual operations, since opening as Chaa Creek Cottages in 1981; The Lodge at Chaa Creek, along with the Belize Rainforest Retreat and the Guava Limb Café will be closed from March 27 until April 30 2020.
"It was a very difficult decision, but the health and safety of our guests and staff have always come first at Chaa Creek," Ms Fleming said.
"We've been closely monitoring advice from World Health Organisation, the CDC, the Pan American Health Organisation and other regional health authorities, and decided to take the most prudent course of action and err on the side of caution.
"While Belize and Chaa Creek remain free of the Coronavirus, we feel it would be irresponsible to encourage people to travel right now," she added.
Ms Fleming said Chaa Creek will do everything possible to lessen the impact of the closure on travel plans.
"We'll remain as flexible as possible and work with guests to accommodate changes in their travel plans. Stays between March 27, 2020 and April 30, 2020 are being rescheduled.
"For bookings after April 30, 2020, we've built flexibility into all rates and Belize vacation packages to make it easier for guests to adjust their travel plans as necessary.
"The goal is to minimise any disruptions in travel and to allow people to plan ahead with the confidence that they will not be unduly compromised by any changes in circumstances.
"If nothing else, COVID-19 has highlighted that we're all in this together, and we are committed to working with travellers to continue to create exciting, enjoyable, and relaxing Belize vacations," Ms Fleming said.
Chaa Creek's website and Belize Travel Blog will be providing regular updates and other information as the situation moves towards resolution, she added.
"This will pass, and when it does, we're certain that people will want to reconnect with nature and enjoy the amenities, fine dining and activities that are all part of the new "Healthy Belize" vacations we launched in early 2020.
"We're looking forward to welcoming our new and returning guests, and I'm sure we'll all be heaving a big sigh of relief as we return to enjoying everything Belize and this beautiful rainforest setting offers," Ms Fleming said.
The Lodge at Chaa Creek is a multi-award winning eco resort set within a 400-acre private nature reserve along the banks of the Macal River in Belize. It was recognised by National Geographic with first place honours at the 2017 World Legacy Awards held in Berlin.
ENDS