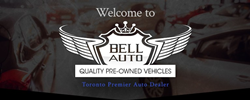 TORONTO (PRWEB) April 21, 2020
The Bell Auto dealership of York and Toronto, Ontario has been presented with the Consumer Choice Award 2020 in the field of Business Excellence. This makes Bell Auto Inc. a six-time winner of the Canadian award.
The Consumer Choice Award was established in 1987. The Consumer Choice Award recognizes the business excellence of small and mid-size Canadian businesses. In this sense, business excellence is defined by the superior quality of a product or service offered by a business. As the name implies, Consumer Choice Award winners are selected entirely by consumers through consumer ratings and reviews that are used to create and develop a business reputation.
Within the organization of the Consumer Choice Award company, Bell Auto Inc. is categorized as a pre-owned company due to its business relying on pre-owned vehicle sales and pre-owned automotive service. For the Consumer Choice Award 2020 distinction, Bell Auto Inc. is the only company within the pre-owned category to be present with a Consumer Choice Award in their location of the Greater Toronto Area (GTA).
To see the product line and presentation that provided the Bell Auto dealership with this distinction, drivers and customers can view the online inventory and service department at the Bell Auto dealership website. The Bell Auto inventory is stocked with a variety of vehicle years, makes and models ranging from luxury models to affordable and budgeted rides. The Bell Auto service department is staffed by factory-trained personnel with years of experience in the automotive industry.
For information regarding the automotive products and services at the Bell Auto dealership, drivers in the York County area of Ontario are encouraged to contact the dealership staff. The Bell Auto Inc. team can be reached through online messaging, by phone at the number of +1 416-736-8880 and on-site at the dealership location. The Bell Auto dealership is located at 1127 Finch Ave. W, North York, Ontario, Canada M3J 2E8.