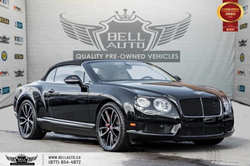 TORONTO (PRWEB) July 21, 2020
There are a wide variety of pre-owned luxury vehicles available in the Bell Auto Inc. inventory for customers to explore. Currently, the dealership inventory offers over 100 pre-owned luxury vehicles. These include vehicle brands like Acura, Audi, Bentley, BMW, Buick, Cadillac, Hummer, Infiniti, Jaguar, Land Rover, Lexus, Maserati, Mercedes-Benz and Volvo.
The most popular pre-owned luxury vehicle brands that are available in the Bell Auto inventory are Audi, BMW and Mercedes-Benz. There are currently 19 Audi models, 15 BMW models and 32 Mercedes-Benz models available in the dealership's inventory. The prices of the luxury pre-owned vehicles currently available in the inventory range from as high as a 2013 Bentley Continental GT V8 Coupe Cabriolet—listed for $129,950—to as low as a 2006 BMW 5 Series 525i—listed for $4,450.
Other great models that are currently available in the Bell Auto inventory include a 2015 Maserati Ghibli S Q4, a 2016 Land Rover Discovery Sport HSE, a 2017 Jaguar XE Prestige and a 2017 Cadillac ATS Sedan AWD. The 2015 Maserati Ghibli is listed for $38,950, while the other three models are all available for less than $30,000. The dealership staff is always able to answer any questions that customers have about the various luxury pre-owned vehicles available in the Bell Auto Inc. inventory.
Customers who would like to explore the pre-owned luxury vehicles available at Bell Auto Inc. can contact the dealership directly. The dealership can be reached by phone at 877-854-4872, online at http://www.bellauto.ca, or in person at 1127 Finch Ave W in Toronto.