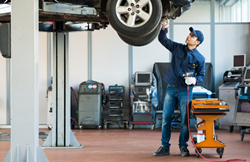 TORONTO (PRWEB) February 26, 2020
In addition to high-quality, pre-owned vehicle sales, the Bell Auto dealership also offers expert automotive services to drivers in the York, Toronto, Ontario, Canada area. Drivers in need of reliable and affordable automotive service are encouraged to check out the automotive opportunities, specials, incentives and programs available at the Bell Auto service center.
Automotive services available at the Bell Auto service center include brake adjustment and replacement, coolant flush, electrical service, filter and oil change, muffler and exhaust repair, tire balance and rotation, transmission flush, vehicle inspections and more. The Bell Auto service center keeps a wide assortment of auto parts and accessories on-site to handle all of the previously stated maintenance jobs. Additionally, if a customer's vehicle and requested service needs a part or accessory that the Bell Auto team doesn't have in stock, the Bell Auto service department can have the part or accessory ordered, delivered and installed at a customer's convenience.
To schedule a service appointment at the Bell Auto dealership, drivers in the York County area can contact the Bell Auto service department online, over the phone or on-site at the dealership location. Drivers are asked to provide the Bell Auto staff with up-to-date vehicle information on their ride, the reason they wish to schedule a service appointment and a preferred method of contact, whether by email, call or text. Once the Bell Auto service team receives a service appointment request, the driver will be contacted to confirm appointment details and get the appointment on the service center calendar.
The direct line to the Bell Auto service department is 888-739-0180. The Bell Auto main dealership number is +1 416-736-8880. The Bell Auto Inc. dealership is located at 1127 Finch Ave. W, North York, Ontario, Canada M3J 2E8.