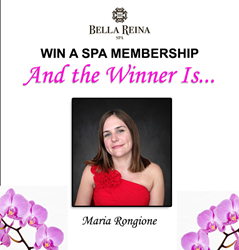 having the opportunity to go to a spa during my pregnancy is a blessing
Delray Beach, FL (PRWEB) August 23, 2014
Bella Reina Spa, Delray Beach, FL, announces their July sweepstakes winner, Maria Rongione today. When asked why she likes day spas, Ms Rongione replied, "I have only been to a spa a couple of times. Currently I am pregnant with my first child and having the opportunity to be able to go to a spa during my pregnancy is a blessing."
Ms. Rongione, just like winners before her, chose a stress-reliever spa massage for her first service."The massage was wonderful, very relaxing and peaceful," she commented. She also went on further to say, "I have a Facebook account and checking in at the spa, posting pictures of pampering myself, and making all my friends jealous would be awesome!"
The sweepstakes contest offers winners a 3-month Bella Club Membership with their choice of a spa facial, spa massage or spa manicure & pedicure. The spa membership, which starts at $69 a month, was introduced in May with outstanding response. The spa member can choose one or all three depending on their membership level.
"Every winner is special, but to find out she was pregnant and how much this meant to her made her winning so perfect," said Kinsey Harris, VP of Marketing and Sales for Bella Reina Spa. For more information on the sweepstakes or a spa membership, contact the spa at 561-404-7670 or email info(at)bellareinaspa(dot)com.
About Bella Reina: Bella Reina is the leading spa provider and definitive authority on luxury beauty, wellness, and spa treatments. Bella Reina was created by Nancy Reagan, a nationally recognized expert in beauty, nutrition, weight loss, skin care, and makeup. Nancy and Bella Reina Spa have been featured in the New York Times, WebMD, Les Nouvelles Esthetique & Spa, and PC Advisor for spa industry expertise and business success. To learn more about how Bella Reina is constantly innovating both spa services, spa memberships and shopping for beauty, please visit BellaReinaSpa.com or MiBellaReina.com.