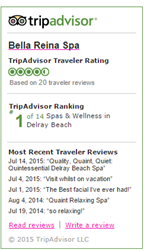 a one-on-one spa experience
Delray Beach, FL (PRWEB) October 12, 2015
Bella Reina Spa announces the completion of a two year transformation into a boutique, one-on-one spa. Realizing that the market was saturated with spas on every corner with price wars, Nancy Reagan, the chief "Bella", knew that simplifying and "doing what we do best" would put the spa in a coveted position.
The spa began internal renovations two years ago with the addition of a tea bar with organic snacks, Tyrent Alkaline water system, crystal chandeliers, and updated pedicure stations. While the spa took on physical changes, the team at Bella Reina began development of organic skin care, vegan makeup, and aromatherapy blends.
Additionally, the spa therapists spent over one year of supplementary training in their field, concentrating on guest support and product ingredients. Cindy Calvagne, VP of Operations said "Using focus groups with our guests, we discovered which spa treatments were the most popular and requested. We narrowed our menu to accommodate our guests. Knowing that we cannot be all things to all people, we are laser focused on our guests' needs and how we can best serve them."
The spa will celebrate Wednesday, October 14th with a glamour event, Cocktails and Makeup. showcasing the spa. Along with celebrity makeup artist, Mariam Seddique, the spa will feature Bella Reina Cosmetics and Skin Care products.
Reagan adds, "We are definitely a one-on-one spa experience for our guests. They love the intimate setting and the amazing treatments. Now with our new organic skin care and makeup, we can customize and tailor each treatment." For more information on Bella Reina Spa, contact them at 561-404-7670.
About Bella Reina
Bella Reina, http://www.bellareinaspa.com/, is the leading Delray Beach spa provider and authority on spa treatments and wellness. They strive to innovate and develop new services to keep their customers feeling good and rejuvenated. Bella Reina was founded by Nancy Reagan, who is recognized as an expert in makeup and skincare. She has more than 20 years of experience in the industry as a spa owner, nail professional, makeup artist, and esthetician.