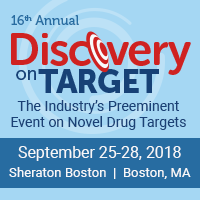 MADISON, Wis. (PRWEB) September 06, 2018
The Discovery on Target (DOT) conference in Boston, MA, which runs from September 25th-28th is a meeting of "The industry's preeminent event on novel drug targets." BellBrook Labs' high throughput screening (HTS) platforms, Transcreener® and AptaFluor®, provide drug discovery scientists powerful tools to study these emerging targets in a quest to find new treatments for disease.
BellBrook Labs will be exhibiting at booth #405, where researchers can discover new applications for a growing suite of HTS assays. These new techniques will also be presented in three posters:
Sensitive Detection of PRMT4 Using Physiological SAM with the AptaFluor Methyltransferase Assay
Methyltransferases are the largest class of epigenetic enzymes, and several have been shown to play a causative role in cancer and other diseases. Discovering new methyltransferase inhibitors has become a major focus of drug discovery. Current detection of methyltransferase activity requires radioactive assays and/or large amounts of methyltransferase enzymes, making HTS impractical in many instances. For these reasons, BellBrook Labs developed a more sensitive, non-radioactive assay to enable robust, cost-effective screening of methyltransferase targets. This poster presentation demonstrates how the assay was used to study PRMT4, a therapeutic target that has attracted interest in the scientific community and where the AptaFluor Methyltransferase Assay allows for more streamlined study.
Development of a High Throughput Transcreener Assay to Explore the Ectonucleotidase Enzyme Family
Ectonucleotidase enzymes are showing promise as immune-oncology targets. Discovering inhibitors for ectonucleotidases has become an increasingly important area of research. Transcreener HTS assays enable robust screening and profiling of ectonucleotidases using mix-and-read assays for direct detection of nucleotide products with FP or TR-FRET readouts. In this poster presentation, BellBrook scientists will describe assay development for the ectonucleotidase CD39 and CD73 using the Transcreener platform.
The Transcreener ADP2 Assay: A Universal Kinase Assay for HTS and Lead Optimization
Kinases are one of the most highly validated target families, yet only a small fraction of the kinome has been exploited therapeutically. ADP detection enables a universal assay method that has been broadly adopted for HTS efforts targeting kinases. The Transcreener ADP2 Kinase Assay uses homogenous detection of ADP with a choice of FP, FI, or TR-FRET readouts. Other ADP detection methods rely on multiple coupled-enzyme steps that are inherently prone to interference and require time-consuming counter-screens to triage false positives. In this poster, BellBrook will provide data demonstrating advantages of the Transcreener ADP2 Kinase Assay for HTS and examples of its use in important hit-to-lead applications.
A new article will also be available at the meeting: "A Guide to Measuring Drug-Target Residence Times with Biochemical Assays." During drug development initiatives, analysis of drug-target residence times can lead to improved efficacy. This 12-page guide provides technical background on concepts and techniques for use of Transcreener biochemical assays to measure drug-target residence times in a high-throughput format.
Learn more about BellBrook's HTS Assay technology at bellbrooklabs.com.
About BellBrook Labs:
BellBrook Labs is dedicated to accelerating drug discovery and biological research by providing innovative HTS solutions. BellBrook's core technology, Transcreener, is a universal, homogenous biochemical assay platform based on detection of nucleotides that makes it easy to screen thousands of different enzymes. These include validated targets like kinases and phosphodiesterases, as well as emerging targets like ATPases, GTPases, methyltransferases, and glycosyltransferases. Detection reagents from BellBrook Labs help researchers progress toward more effective therapies for cancer and other debilitating diseases.