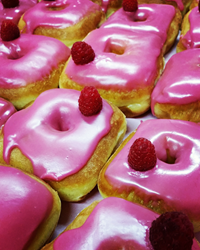 Travelchannel.com Names Belle Kitchen as Best Doughnut in Oklahoma
Oklahoma City, OK (PRWEB) November 23, 2016
Belle Kitchen has landed on Travel Channel's list of the "Best Doughnut Shops in America" and is excited and honored to be included on Travel Channel's list along side the best doughnut shops in the nation.
The Oklahoma based bakery, which recently expanded into the Deep Deuce area in Oklahoma City, has been creating their highly acclaimed fresh, square doughnuts by hand for just over a year.
"Fresh, beautiful and huge best describes our doughnuts," says Cheryl Davenport, the founder of Belle Kitchen. "We use only the very best ingredients. Our dough takes about 24 hours to produce and results in a light and fluffy doughnut that is perfectly complimented with fresh, seasonal, super flavorful glazes like roasted strawberry lime, vegan hibiscus, bacon maple, gluten free mixed berry and black cocoa powder old fashioned doughnuts."
Originally from Canada and and then Seattle where gourmet doughnuts are a tradition, Davenport saw a need in the marketplace and developed the idea for gourmet doughnuts in Oklahoma City. She took months to perfect the recipe and built two locations to serve her Oklahoma customers.
"Having worked for Microsoft and Hitachi taught me that innovation and creation are cornerstones of great ideas but owning a small business marketing agency taught me about the importance of the customer. We want our customers to be to delighted with visit, finding new and beautiful treats as well as their favorites in the case," says Davenport.
Belle Kitchen can be found on social media @bellekitchenokc or online at http://www.belle-kitchen.com.