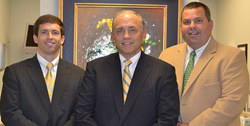 Sleep apnea that progresses without treatment can be dangerous to a patient's overall health and has been linked to heart failure and stroke.
NASHVILLE, TN (PRWEB) October 13, 2020
The dentists at Belle Meade Family Dentistry, Dr. James Pace Sr., Dr. Temp Sullivan, and Dr. James Pace Jr., raise awareness of the harmful consequences of untreated sleep apnea for oral and overall health. They welcome patients, with or without a referral, who have common sleep apnea symptoms, including daytime fatigue and snoring in Nashville, TN for personalized treatment with oral appliances.
Sleep apnea is a dangerous condition characterized by repeated pauses in breathing throughout sleep. These cessations commonly occur when tissues and the tongue fall back into the throat and obstruct the airway. Many patients do not realize they have obstructive sleep apnea but will experience the chronic effects, including morning headaches, daytime fatigue, trouble with concentration and memory, mood swings, and systemic health complications associated with blood pressure, diabetes, weight, and the heart. Sleep apnea that progresses without treatment can be dangerous to a patient's overall health and has been linked to heart failure and stroke. Treating this condition not only reduces these risks but helps resolve problematic symptoms such as snoring.
The dentists at Belle Meade Family Dentistry help patients discover if they have this life-threatening condition. If a patient presents with signs of sleep apnea, they can receive a take-home sleep study. This convenient test uses sensors to measure oxygen levels and record breathing while patients are in the comfort of their own bed.
If diagnosed with sleep apnea, patients can receive custom oral appliances from Belle Meade Family Dentistry to relieve symptoms and reduce associated health risks. Oral appliances fit over the teeth like a sports mouthguard and keep the lower jaw in a more forward position. This keeps the tissues and tongue from blocking the airway when the patient is in a relaxed state and helps to reduce snoring (a result of a partially obstructed airway). Oral appliances are less invasive than CPAP machines and are a beneficial option for those who are intolerant of this traditional solution. Drs. Pace and Sullivan can treat sleep apnea symptoms with these appliances after patients have received an official diagnosis from a sleep specialist.
Patients who have their sleep apnea treated with an oral appliance can enjoy a more restful and replenishing sleep, reduced snoring, better energy throughout the day, increased cognitive function, and a reduced risk of systemic complications. Patients can also improve their overall quality of life with better sleep and health with a minimally invasive and custom oral appliance.
Patients with chronic snoring in Nashville, TN who are interested in receiving an oral appliance for sleep apnea can contact Belle Meade Family Dentistry by visiting http://www.bellemeadedental.com or calling 615-298-2030.
About the Practice
Belle Meade Family Dentistry serves the Nashville, TN area with full-service family dentistry, for 43 years running. Dr. James Pace Sr. has served as a Chairman of the Nashville Peer Review Committee and as a delegate to the Tennessee Dental Association. He was selected by his peers in 2019 as one of the Top Dentists in Nashville, has consistently received recognition by the Tennessee Dental Association for his hours of continuing education, and has led and participated in multiple dental and medical mission trips to the Dominican Republic. Along with Dr. James Pace Jr. they have been honored each year from 2015-2019 as Patient's Choice Award Winners. Dr. Pace Jr. has also received the 2011 Tennessee Dental Association's Ace Award. Dr. Temp Sullivan earned his fellow in laser dentistry at World Clinical Laser Institute and serves as a delegate for the Tennessee Dental Association and as a member of the Peer Review committee for TennCare. The team at Belle Meade Family Dentistry strives to provide the finest quality dental care for patients in a warm, caring, and clean environment. They execute the most advanced dental care with every service, including dental implants, Invisalign®, the Pinhole® Surgical Technique and laser dentistry. To learn more about the dentists at Belle Meade Family Dentistry and the services they offer visit http://www.bellemeadedental.com or call 615-298-2030.