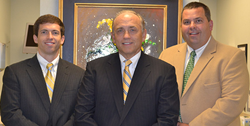 While many things have changed, one thing has remained the same: our commitment to your safety."
Nashville, TN (PRWEB) June 02, 2020
Dentists and staff at Belle Meade Family Dentistry welcome existing and new patients for comprehensive care, including emergency dentistry and routine dental care, at their state-of-the-art practice in Nashville, TN. With the health of their patients and their community in mind, they have implemented additional safety guidelines and increased their sanitation regiment amid the COVID-19 pandemic.
Belle Meade Family Dentistry has been serving their Nashville area with passionate and truly caring dentistry for over 35 years. With a dedication to maintaining not only their patients' oral health but overall well-being, they were eager to reopen and provide the dental care patients need for a healthy life. A healthy mouth has been shown to have a direct connection to a healthy body. Leaving a seemingly simple case of bad breath or a toothache untreated can grow into a systemic condition and a strained immune system.
In order to protect the health of their patients and their community, Belle Meade Family Dentistry encourages those with oral concerns, dental emergencies, or those in need of a routine dental cleaning, not to delay receiving the care their smile and their health needs.
For the comfort and the safety of their patients, Belle Meade Family Dentistry now follows additional safety guidelines during the novel coronavirus outbreak. As stated in their latest team announcement, "While many things have changed, one thing has remained the same: our commitment to your safety."
For those who have frequented their practice already, infection control has always been a top priority of Belle Meade Family Dentistry. Following infection control recommendations made by the American Dental Association (ADA), the U.S. Centers for Disease Control and Prevention (CDC), and the Occupational Safety and Health Administration (OSHA), among others, they have implemented the following changes at their practice:

Patients will be asked a set of screening questions before their visit as well as once they arrive.
Patients are encouraged to use provided hand sanitizer when entering the reception area as well as throughout their stay.
Magazines, children's toys and other items that are difficult to disinfect properly have been removed from the waiting room.
Appointments will be managed to allow for social distancing between patients. This may limit availability.
Belle Meade Family Dentistry will do their best to allow greater time between patients both reducing waiting times as well as the number of patients in the reception area at one time.
To learn more about the safety guidelines currently being implemented by the caring Belle Meade Family Dentistry team or to schedule a consultation for quality dental care, call 615-298-2030. To learn more about this trusted team of dentists and the comprehensive services they offer in Nashville visit their website at http://www.bellemeadedental.com.
About the Dentists
Belle Meade Family Dentistry serves the Nashville, TN area with full-service family dentistry, for 35 years running. Dr. James Pace Sr. has served as a Chairman of the Nashville Dental Society and as a delegate to the Tennessee Dental Association. He was a 2015 Patient's Choice Award Winner, has consistently received recognition by the Tennessee Dental Association for his hours of continuing education, and has led and participated in multiple dental and medical mission trips to the Dominican Republic. Dr. Temp Sullivan earned his fellow in laser dentistry at World Clinical Laser Institute and serves as a delegate for the Tennessee Dental Association and as a member of the Peer Review committee for TennCare. Dr. James Pace Jr. received the 2011 Tennessee Dental Association's Ace Award. The team at Belle Meade Family Dentistry strives to provide the finest quality dental care for patients in a warm, caring, and clean environment. They execute the most advanced dental care with every service, including teeth-in-a-day dental implants, Invisalign®, the Pinhole® Surgical Technique and laser dentistry. To learn more about the dentists at Belle Meade Family Dentistry and the services they offer visit http://www.bellemeadedental.com or call 615-298-2030.