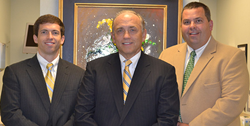 With dental implants, patients can experience a more natural quality of life as implants feel, look and function just like real teeth.
Nashville, TN (PRWEB) November 01, 2019
Patients seeking dental implants in Nashville, TN can improve their candidacy for the treatment with a bone graft at Belle Meade Family Dentistry with or without a referral. A bone graft is a dental treatment that rebuilds deteriorated jawbone, restores jawbone density and volume and in most cases, allows patients to qualify for life-changing dental implants. Belle Meade Family Dentistry offers modern bone grafting care as part of a comprehensive treatment plan to restore patients' oral health and overall quality of life.
Patients who qualify for a bone graft, experience jawbone deterioration often caused by tooth loss, oral damage or disease. When the jaw bone deteriorates, there is less bone structure to support teeth, which can cause remaining teeth to begin to shift or fall out. Additionally, jawbone loss alters a patient's facial appearance, causing an aged, sunken-in look. Without this bone, dental implants, the most preferred tooth replacement solution available today, cannot be placed.
The best solution to bone loss is a bone graft, which can restore bone volume, renew a natural-looking facial appearance and help patients qualify for the placement of dental implants. At Belle Meade Family Dentistry, the practice incorporates bone grafting into their treatment plans for replacing teeth. The practice begins with a cone beam CT scan of the mouth and jaw to capture detailed images of the bone volume, tooth location and position of nerves. This scan is then used to help plan where the bone graft will need to be performed and where to position the dental implants. The graft material is composed of bone granules that are packed around the bone recession and protected to heal. After healing for several weeks to a few months, dental implants will have sufficient bone support to be placed.
Belle Meade Family Dentistry offers advanced tooth restoration solutions depending on each patient's needs. For those with individual missing teeth, single dental implants can be placed and restored. Patients who are missing most or all of their teeth can benefit from All-on-4® full mouth dental implants, which utilizes as few as four implants to support a lifelike bridge of teeth. The practice also features teeth-in-a-day dental implant solutions, which allows them to create natural, long-term crowns that can be affixed to dental implants the same day surgery takes place. With dental implants, patients can experience a more natural quality of life as implants feel, look and function just like real teeth.
Patients in need of a bone graft to qualify for dental implants are encouraged to contact Belle Meade Family Dentistry by calling 615-298-2030 or visiting the website http://www.bellemeadedental.com to schedule a consultation.
About the Dentists
Belle Meade Family Dentistry serves the Nashville, TN area with full-service family dentistry, for 35 years running. Dr. James Pace Sr. has served as a Chairman of the Nashville Dental Society and as a delegate to the Tennessee Dental Association. He was a 2015 Patient's Choice Award Winner, has consistently received recognition by the Tennessee Dental Association for his hours of continuing education, and has led and participated in multiple dental and medical mission trips to the Dominican Republic. Dr. Temp Sullivan earned his fellow in laser dentistry at World Clinical Laser Institute and serves as a delegate for the Tennessee Dental Association and as a member of the Peer Review committee for TennCare. Dr. James Pace Jr. received the 2011 Tennessee Dental Association's Ace Award. The team at Belle Meade Family Dentistry strives to provide the finest quality dental care for patients in a warm, caring, and clean environment. They execute the most advanced dental care with every service, including teeth-in-a-day dental implants, Invisalign®, the Pinhole® Surgical Technique and laser dentistry. To learn more about the dentists at Belle Meade Family Dentistry and the services they offer visit http://www.bellemeadedental.com or call 615-298-2030.