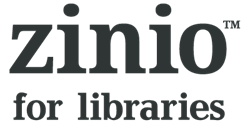 Bellevue, NE (PRWEB) December 16, 2014
As of January 1, 2015, Bellevue Public Library will join the Central Nebraska Digital Consortium to deliver two electronic resources: Zinio for Libraries and OneClickdigital.
OneClickdigital will provide Bellevue Public Library patrons free access to eAudio at home, in the library, or anywhere with Internet access. Many titles are multi-access, so multiple users can check out a given title at the same time, eliminating holds. OneClickdigital is compatible with all popular listening devices, and mobile apps are available for the iPhone, Android, and Kindle Fire. OneClickdigital features an easy-to-use interface with streamlined navigation, fast downloads and automatic software updates. Live toll-free technical support is available at 1-877-77AUDIO.
Patrons of Bellevue Public Library will now also have unlimited simultaneous access to popular digital magazines. Zinio for Libraries features complete, full-color, page-for-page magazines with intuitive navigation, key-word article search and interactive elements such as audio and video. Periodicals can be viewed on most Internet-enabled devices inside or outside of the library.
###
To access either of these services, library patrons can go to http://www.bellevuelibrary.org/, or address questions directly to Bellevue Public Library staff members.
About Recorded Books
Recorded Books is the largest independent publisher of unabridged audiobooks and provider of digital content to the library, school, and retail markets. The company owns an exclusive catalog of over 13,500 audiobook titles narrated by professional, award-winning actors. Recorded Books provides digital audiobooks and eBooks to libraries through its proprietary OneClickdigital platform, as well as electronic resources, including digital magazines and films, through its proprietary RBdigital Gateway platform. The Company was founded in 1979 and is headquartered in Prince Frederick, MD. For more information, visit http://www.recordedbooks.com.
About Zinio
Zinio is the world's largest newsstand and bookstore. With its many digital products and services, Zinio creates better ways for people to discover published content, get more of it and do more with it. Now, readers can purchase content once to be read on any screen. Zinio provides the ability to shop for, search inside, read, share and save digital content in 23 local newsstands in any country in the world. Through the ZINIO UNITY™ reading platform, readers can move seamlessly within each publication page between text, interactive graphics, animated illustrations, videos and much more. Offering hundreds of thousands of the best digital titles, Zinio's e-stores and applications are revolutionizing reading. Founded in 2001 and privately held, Zinio is headquartered in San Francisco and has offices in New York, London, Paris, Barcelona and Taipei. For more information, visit http://www.zinio.com.