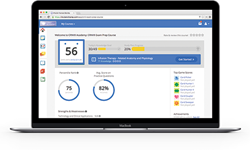 With the development of CRNI® Academy, [the candidates] now have an effective and enjoyable study tool to better prepare them to take and pass the CRNI® exam.
Chicago, IL (PRWEB) August 24, 2016
The Infusion Nurses Society (INS) has announced a partnership with BenchPrep, a leading digital learning platform company, to provide CRNI® candidates with an innovative educational program. The two organizations collaborated to develop the CRNI® Academy, a personalized, interactive learning program that promises to make the CRNI® certification more accessible than ever to qualified nursing professionals.
INS and BenchPrep launched the program to a select segment April 1. It is now available to groups as well as individual students to meet growing demand.
With over 6,500 members, INS is the only national organization that represents infusion nurses and maintains up-to-date practice standards. Infusion therapy is a specialized but rapidly growing discipline; the U.S. Bureau of Labor Statistics has projected that, by 2020, demand for infusion nurses will increase by 26 percent. As the only nationally recognized infusion certification, the CRNI® is critical to ensuring the need for highly qualified infusion nurses is met.
"The CRNI® exam is one of the most challenging and rewarding specialty nursing certification exams. Candidates spend considerable time and resources studying for this exam," said Mary Alexander, CEO of INS and the Infusion Nurses Certification Corporation (INCC). "With the development of CRNI® Academy, they now have an effective and enjoyable study tool to better prepare them to take and pass the CRNI® exam."
CRNI® Academy integrates official content from multiple INS resources with BenchPrep's intuitive digital learning platform. The platform includes an easily adjustable schedule and advanced analytics to ensure students use their time efficiently. Other features promote game-based learning, self-assessment, and collaborative preparation with other candidates to help them learn better and faster.
Candidates can access the program across desktop computers and mobile devices, enabling them to study from any location instantly without carrying an oversized test prep book.
"We're thrilled and honored to realize INS's vision of helping thousands of CRNI® candidates through their journey to become infusion nurses," said BenchPrep co-founder and CEO Ashish Rangnekar. "Our partnership with INS underlines the effectiveness of our learning platform in helping professionals achieve their goals."
INS is the latest organization to partner with BenchPrep, which also collaborates with McGraw-Hill Education, ACT, Inc., the HR Certification Institute, and others to deliver digital certification and education programs.
Prospective CRNI® candidates can find more information about CRNI® Academy at https://ins.benchprep.com/learn-more and purchase a 12-month subscription for $250.
#########
About the Infusion Nurses Society
The Infusion Nurses Society (INS) is a Massachusetts-based national nonprofit organization which represents nurses and other health professionals involved in infusion therapy. Founded in 1973, INS holds conferences, promotes research, and provides learning opportunities, scholarship, and other resources to ensure that professionals offer patients state-of-the-art, quality infusion therapy. INS also directs the Infusion Nurses Certification Corporation (INCC) to administer the CRNI® Exam and maintain universal infusion nursing standards and procedures.
For more information about INS and membership, please visit http://www.ins1.org.
About BenchPrep
BenchPrep is a turnkey learning solution for education and training companies to create and deliver personalized digital learning programs on desktop and mobile devices. The world's leading educational organizations, including ACT, Hobsons, McGraw-Hill Education, The Princeton Review, and the HR Certification Institute, use BenchPrep to deliver adaptive exam prep programs, and more than 2 million individual learners have used BenchPrep to meet personal and professional goals. The company has raised more than $8M in venture capital funding and is backed by top venture capital investors, including New Enterprise Associates (NEA), Revolution Ventures, and Lightbank.
For more information or to request a demo, please visit http://www.benchprep.com.
#########