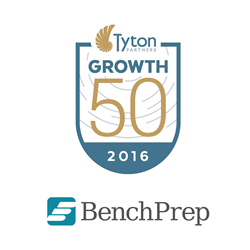 Companies selected for this year's Tyton Growth50 are exemplars for understanding the transition from early- to growth and later-stage businesses, making that transition successfully, and achieving impact at scale."
Chicago, IL (PRWEB) September 15, 2016
BenchPrep, an enterprise SaaS learning platform company, has been named to the 2016 Tyton Growth50 list. The list recognizes innovative organizations achieving impact at scale through a combination of strong financial performance, market awareness and adoption, and demonstrated customer outcomes across the preK–12, postsecondary, corporate training, and consumer education markets. As one of the 50 organizations selected this year, the achievement marks a significant milestone in BenchPrep's rapid growth.
Based in Chicago, BenchPrep is on a mission to help learners achieve educational and professional success. Since its inception in 2009, the company has helped more than 3 million learners worldwide learn better and faster through a digital platform that combines data science, innovative instructional design, and usability engineering to improve user engagement and success.
Earlier this year, ACT, Inc. engaged BenchPrep to launch a digital learning program aimed at improving college readiness, access, opportunity, and success for low-income students. The partnership offers low-income students free access to the ACT Online PrepTM program, providing an estimated value of $27.9 million per academic year. Several best-in-class education organizations, including McGraw-Hill Education, Houghton Mifflin Harcourt, Hobsons, the HR Certification Institute and Infusion Nurses Society, also use BenchPrep to help engage learners and improve outcomes.
"We are thankful for and honored by this recognition. At BenchPrep, we are committed to helping learners improve outcomes at scale by delivering personalized, game-based and pedagogically robust digital learning experiences," BenchPrep co-founder and CEO Ashish Rangnekar said. "Our place on the 2016 Tyton Growth50 List is testament to the strength and effectiveness of our learning platform and the dedication of our team to the product and its users."
Each year, experts on the Tyton Partners team review nominated companies in the education space, evaluating each against the Tyton Growth Framework to narrow the field. That analysis is used to select the 50 companies that best exemplify the impact, engagement, awareness, and sustainability necessary to have lasting impact.
"Early-stage investment in education remains strong, but we often lose sight of what happens to these companies after initial funding," said Adam Newman, co-founder and Managing Partner at Tyton Partners. "Companies selected for this year's Tyton Growth50 are exemplars for understanding the transition from early- to growth and later-stage businesses, making that transition successfully, and achieving impact at scale across a variety of segments of the education market."
Following their selection, BenchPrep will participate in a Chicago forum organized by Tyton Partners on October 6. The forum will bring together Growth50 finalists past and present, their investors and key advisors, and a select group of industry influencers helping to shape the education sector today. Tyton will release more information on the event at a later date.
##
About BenchPrep
BenchPrep is an enterprise SaaS learning platform for education and training companies to create and deliver personalized digital learning programs across multiple devices including web, tablet and mobile. BenchPrep is helping millions of people all around the world learn better and faster by leveraging the power of technology, data science, usability engineering, and innovative instructional design models. The world's leading education organizations, including ACT, Hobsons, McGraw Hill Education, Houghton Mifflin Harcourt and HR Certification Institute, use BenchPrep to help learners improve outcomes.
For more information or to request a demo, please visit http://www.benchprep.com.
About Tyton Partners
Tyton Partners is the leading provider of investment banking and strategy consulting services to the global knowledge sector. The firm has offices in Boston and Stamford (CT), and an experienced team of bankers and consultants who deliver a unique spectrum of services from mergers and acquisitions and capital markets access to strategy and market development services that helps companies, organizations, and investors navigate the complexities of the education, media, and information markets. Tyton Partners leverages a deep foundation of transactional and advisory experience and unparalleled level of global relationships to make its clients' aspirations a reality and catalyze innovation in the sector. For more information visit http://www.tytonpartners.com or follow us @tytonpartners.