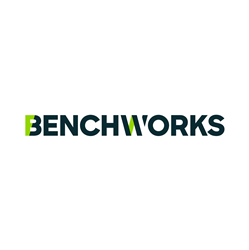 We built a model that looks at brand opportunities from all angles and keeps focus on business strategies and brand building
PHILADELPHIA (PRWEB) January 22, 2020
Benchworks is pleased to introduce a brand presence that reflects its ongoing growth and transformation into a full-service agency of record and commercialization partner for the life sciences industry.
The brand theme "Intentionally Integrated Thinking" reflects the professional diversity and collaboration among the expanded team. It's a mixture of knowledge and skill sets that includes both agency talent and marketing and commercialization leaders from the pharmaceutical industry.
This curated team is focused exclusively on creative, strategically disciplined approaches to building and supporting successful healthcare brands throughout their life cycle. These approaches are firmly grounded in four pillars of life sciences brand development—creative, strategy, science and technology.
"It's important that Benchworks' brand presence keeps pace with our rapid growth," said Thad Bench, CEO. "It helps ensure that everyone, from employees to prospective clients, understands who we are, what we offer and where we are going."
The rebranding follows rapid growth and addition of personnel in the Philadelphia office. With revenue up 16%, the agency has acquired more space to accommodate an ongoing expansion of its team. At the same time, the focus remains on flexible, scalable solutions that drive better results for brands and better outcomes for patients.
"We built a model that looks at brand opportunities from all angles and keeps focus on business strategies and brand building," said Executive Creative Director Angelina Sciolla. "Our creative is strategically sound and relevant because our colleagues who were once clients give us a perspective and a knowledge base that is invaluable. We think like clients but deliver as a creative agency. There's no fat. Just muscle."
About Benchworks
A continuously evolving enterprise for over 25 years, Benchworks is a hybrid model of consultancy and brand-building creative agency. Powered by a diverse mix of agency and industry talent, Benchworks blends brand and business strategies to deliver flexible, scalable solutions that answer and anticipate the challenges of a complicated life sciences marketplace. For additional information, please visit http://www.benchworks.com or call 800-536-4670.