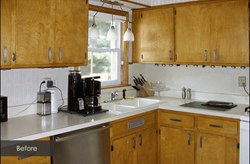 Kitchen cabinet replacement can cost upwards of $35,000. In contrast, typical cabinet refacing averages $7,500 or less, which can include new cabinet doors, cabinet glass inserts, hardware, pull-down racks, shelves, and even countertops.
New York, NY (PRWEB) August 26, 2015
Prompted by inquiries from homeowners and DIY enthusiasts on how to improve kitchen cabinets on a budget and with a quick turnaround, Bendheim investigated the costs and benefits of kitchen cabinet refacing versus replacing. The complete findings of this new study are now available in this infographic.
Once used just for cooking, the kitchen has evolved to become the heart of the home. We spend nearly three hours per day in it, creating demand for contemporary kitchens that are carefully designed as comfortable, dynamic, and visually appealing extensions of the living space.
As the U.S. housing market continues to recover, homeowners are beginning to feel confident in undertaking home improvement projects that will increase the value of their property, with a substantial return on investment (ROI). Cabinets are the most prominent fixtures in a kitchen, making the replacement of existing cabinetry a common makeover project. However, this option can come with a steep price tag of over $35,000. A more wallet-friendly solution is to reface existing cabinets, for which the cost typically averages $7,500 – representing savings of approximately $27,500. Kitchen cabinet refacing is also relatively fast, with most projects requiring just a few days to complete. This solution is also perfect for a design-driven DIYer, as it is highly customizable, encouraging homeowners to integrate their personal style and preferences into the new design.
When refacing cabinets, any number of materials can be used to achieve the desired look and feel. Paint, stain and glass – and any combination of the three – are some of the most common. Homeowners can experiment with a virtually limitless variety of paint color options and effects for a contemporary, traditional, or even exotic kitchen ambiance. Staining brings out the natural beauty in wood cabinets, and offers a variety of finishes and a classic aesthetic.
Glass is another key material in a successful kitchen cabinet refacing project. With a vast assortment of colors, textures and designs, glass panels can fully replace cabinet doors or serve as decorative inserts to give the kitchen a timeless, elegant appeal. A design-savvy project, installing cabinet glass door inserts can enhance kitchen design by creating a perception of depth and spaciousness, lightening up the space, and accentuating its style. Transparent and translucent glass varieties can be used to display beautiful china, while obscuring and opaque glass can hide clutter where needed.
Bendheim Cabinet Glass offers homeowners and remodelers more than 150 decorative glass varieties that will satisfy the tastes of the most discerning homeowner. All are available in pet- and child-friendly safety form (tempered or laminated). The selection of patterned, textured, frosted, and colored glass – including rare mouth-blown and hand-made glass designs – is available directly online at http://www.BendheimCabinetGlass.com.
For additional information about kitchen cabinet refacing and step-by-step directions, please visit http://www.bendheimcabinetglass.com/replace-or-reface.cfm.