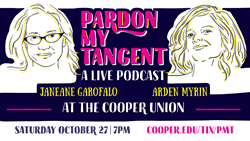 NEW YORK (PRWEB) October 09, 2018
Actors/comedians Janeane Garofalo and Arden Myrin will host a benefit show and live taping of their podcast Pardon My Tangent on Saturday, October 27, 7pm at the Great Hall of The Cooper Union for the Advancement of Science and Art. All proceeds of the comedy and music show benefit the school's return to full-tuition scholarships for all undergraduate students. Ticket prices vary, and start at $25. To purchase tickets, visit http://www.cooper.edu/tix/pmt.
Janeane and Arden will be joined by a variety of their celebrity friends, actors, and musicians including:

H. Jon Benjamin – actor Bob's Burgers, Archer
Amy Engelhardt – singer/songwriter, formerly of The Bobs
The Gregory Brothers – viral internet stars/ musicians
Larry Murphy – actor Bob's Burgers
Lawrence O'Donnell – TV pundit, host of MSNBC The Last Word
Dallas Roberts – actor, FBI, The Good Wife, The Walking Dead
Amy Sedaris – actress, At Home with Amy Sedaris, Strangers with Candy
Sam Seder – TV pundit, host of The Majority Report
Amber Tamblyn – actress, Sisterhood of the Traveling Pants, Joan of Arcadia
Kate Walsh – actress, Grey's Anatomy, Private Practice, 13 Reasons Why
(Cast subject to change)
Established in 1859, The Cooper Union is a private college of art, architecture, and engineering. Since its founding, Cooper has been a place and an idea ahead of its time: open to all regardless of race, gender, or socio-economic background; for most of its history, free to attend; and a destination for free speech, civic engagement, and a witness to the flow of American history and social movements. Today, The Cooper Union embraces those same ideals and is pursuing a plan to return to full-tuition scholarships for all undergraduate students.