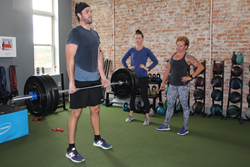 "We want to offer something to everyone, empowering and energizing our clients. ...we strive to focus on the needs of each group," said Angela Gordon.
CINCINNATI (PRWEB) October 18, 2018
Benefit Studio, located on Eastern Avenue, Cincinnati, (Tusculum) kicks off their fall exercise class offering with a new look on their web site and a new selection of "specialized variety" for all bodies.
"We want to offer something for everyone, empowering and energizing our clients. With a range in age from 13 to 77, we strive to offer classes which focus on the needs of each group," said Angela Gordon, partner in Benefit Studio.
Their new exercise classes feature such emphasis as Minute Madness on Mondays; Reps, Rest, Repeat on Tuesdays; Empower on Wednesdays; Timed Tabatas on Thursdays; and a favorite for many, Filthy 50 on Fridays, followed by Happy Hour at a nearby pub. The idea is that clients will know what to expect before coming to class and be mentally prepared for their workout. Whether strength training, cardio, muscle building, endurance, or overall better health, they have created a class structure which they hope will reach a broad audience.
"'Boot Camp' used to be the buzz word, but so many "big box gyms" offer that, we decided to switch it up and give our people what they really need. We strive to make sure everyone has something they need and want. With our new class structure, they can come any day of the week and know what to expect," Angela explained.
Bobby Bench has been working out at Benefit Studio for several months after trying out numerous gyms in the area. "I keep coming back here because I love the people, I enjoy the atmosphere here, but most of all, I have seen great results," Bobby said. And according to Angela, results are the answer.
In addition to their regular class structure, both Emily and Angela offer one-on-one training. This provides the type of motivation and instruction that many people need to stay focused and on track to meet their goals. "People who sign up for one-on-one are generally looking to accomplish something specific: a target weight, an upcoming competition, or a personal goal and they just need that extra push to help them get there," Angela said.
Both Angela and Emily feel that the sense of community is what keeps people coming back. After having her first child a year ago, Emily started a Mom and Me class. For new moms, it is as much an idea-sharing session as it is a workout class. It provides the moms an outlet, a time to socialize and a time to do something for themselves, perks that all new moms need.
Angela has a Seniors class early in the morning with clients aged 65 and up. Again, that sense of community for those who have a need to keep moving, at whatever their age. But knowing that there are others in the same shape, literally, keeps the group coming back week after week.
"We love our clients," Angela said. "They soon become friends with us and with one another. Knowing that we really care about their health, their goals, their lives, makes us the gym that truly has the "Benefits" that are rarely found elsewhere."
For more information, a complete list of classes visit their web site.
Contact:
Angela Gordon
Benefits Studio
3913 Eastern Ave.
Cincinnati, Ohio 45226
(513) 533-2348