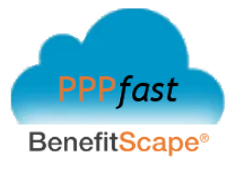 "As a Woman Owned Small Business, we saw this as an opportunity to help organizations to convert a PPP loan into a tax-free grant, which can be a game changer for many employers, giving them the financial runway to make a go of it." noted Kim Phillips, President and CEO of BenefitScape®
NATICK, Mass. (PRWEB) June 16, 2020
The BenefitScape mission is to help organizations maximize their PPP Loan Forgiveness and assist them with preparing the SBA Application and materials required, in order to enable their Lender to approve their requested forgiveness amount.
BenefitScape, a leader in workforce analytics and compliance, has stepped up to help their clients and the over 4.4 million organizations that have PPP loans. These PPP Loans can be forgiven only when the borrower follows the SBA guidance completely and accurately. BenefitScape enables borrowers to outsource the entire SBA forgiveness process, letting them focus on restarting their own business.
Our research with clients has shown that even small mathematical errors or misunderstanding of SBA guidance can cause borrowers to lose thousands of dollars in loan forgiveness. For example, if the Full Time Employee (FTE) count during a restart, a required SBA metric, was incorrectly determined by the borrower to be 8.0 FTE's, but was actually 10.0 FTE's, a $100,000 loan would lose $20,000 in potential forgiveness. This $20,000 becomes a debt the organization must repay.
"As a Woman Owned Small Business, we saw this as a unique opportunity to provide meaningful help to organizations that, without some outsourced assistance, would be unable to even apply for loan forgiveness. Converting a loan to a tax-free grant can be a game changer for many organizations, giving them the financial runway to make a go of it." noted Kim Phillips, President and CEO of BenefitScape©
The Purpose of the PPP Loan Program
The objective of the PPP loan is to enable employers to maintain their workforce and rates of pay at pre-pandemic levels. While this sounds like a simple proposition, as usual the devil is in the details. Borrowers are required to provide their lender with an SBA Application Form, outlining the details of the request for forgiveness. The borrower will examine this application and if it meets their standards will pass the form and any relevant documentation along to the SBA for approval.
BenefitScape combines analyst skills with cloud based PPPfast software http://www.pppfast.com
BenefitScape is extremely well suited to perform this form of analysis and provide guidance to clients on how to best approach maximizing forgiveness under the SBA guidelines. The firm was selected as a distribution partner for PPPfast, a sophisticated analytics and reporting cloud-based application designed specifically for PPP loan forgiveness. The analysts at BenefitScape routinely handle volumes of data in connection with their role as an IRS e-filer for Affordable Care Act (ACA) compliance. This focus and their ability to work on a remote basis in this pandemic-centered moment put them in a unique position to help employers maximize their PPP loan forgiveness.
"We quickly realized that the information required by the SBA was actually workforce data consisting of hours worked, dates of hire, termination, wages etc. Essentially, the SBA was attempting to determine if a borrower was able to maintain both their workforce and rates of pay at levels like their pre-pandemic levels," according to Kim Phillips. "This analysis, comparing the workforce during several time frames, is very fact-intensive and requires a significant amount of data. In addition, the analysis requires extensive individual calculations for each employee. Our analysts have extensive experience with workforce data, compliance experience, and supporting software. Without this combination of skills and software, determining the amount of loan forgiveness is nearly impossible," Kim Phillips noted.
PPP Loan Forgiveness presents unique challenges in Workforce Management
In addition to restarting their own businesses, the simultaneous measurement of a dynamic workforce in these pandemic times, with furloughs and indefinite restart schedules, is a very difficult task. Unfortunately, it is this fact-intensive measurement that is required to support loan forgiveness. Further complicating the measurement are the volume of SBA guidance. For example, SBA "safe harbors," such as a new exemption for borrowers who made a good faith offer to rehire workers which was declined are a good example. To take advantage of this guidance, an employer must have made a written offer and recorded the response.
BenefitScape Outsourcing support is designed for today's virtual workforce.
"We worked closely with our colleagues at DECISYS, the developers of the PPPfast software to implement and simplify the SBA guidance, so that virtual workers would be able to handle this task. We shared lessons that we learned in ACA compliance, where the guidance and complexity of IRS mandated coding structures make it possible to have hundreds of thousands of different variations within a workforce. The only way to simplify such complex workforce analysis is using intelligent software specifically designed to handle the layers of complexity. To perform the task manually for any sizable organization risks significant errors, financial loss, and possibly even denial of any forgiveness," cautioned Kim Phillips.
BenefitScape has simplified providing the data required by the lenders and the SBA
The SBA Application Form and instructions supplemented by SBA guidance provided a strong roadmap for what lenders will be requiring from borrowers to support their application for forgiveness. BenefitScape has trained their analysts to follow this procedure with enabling support from PPPfast software. The borrower simply needs to provide payroll data in its native format as well as information relative to other expenses such as rent, healthcare, utilities, etc. and BenefitScape takes care of the rest. The output is a report that can be provided directly to the lender for examination.
Because all the calculations and data exist in the cloud based PPPfast database, changes can be made quickly and efficiently by the lender. In addition, upon acceptance by the SBA, the entire package can be archived in case of a future inquiry or audit. This feature alone could save an organization hundreds of thousands of dollars in fees, penalties, and wasted effort; should a full-blown audit emerge. Since the SBA requires this data to be available for a six-year period, an intelligent archive is the only solution.