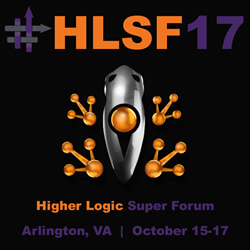 We are happy to showcase this strategic partnership and look forward to more work together in the future.
McLean, VA (PRWEB) October 13, 2017
benel Solutions, a Certified Implementation and Integration Partner across most of the Association and Nonprofit technology market will be sponsoring and exhibiting at the Higher Logic Super Forum for the second consecutive year. The two companies have had a close strategic partnership in the market since shortly after benel Solutions was formed in January of 2014, and became involved in the user conference hosted by the industry leading community and collaboration software provider by sponsoring the 2016 #HLSF16 event for the first time.
Higher Logic Super Forum (HLSF) is a highly informative, three-day event centered around building, maintaining, and improving a cohesive community network. It attracts over 400 professionals and consultants across multiple markets to learn about community management trends, encourage idea sharing, and educate on membership data to power their online communities.
Last year at HLSF 16, benel Solutions sponsored and exhibited alongside longtime partners like Abila (now a member of the Community Brands family), Real Magnet, Expo Logic, HighRoad Solution and others. The show was expertly coordinated by the team at Higher Logic and was a great success, resulting in quality leads and emphasizing the importance of relationships and communities.
benel Solutions is proud to partner with Higher Logic and eager to sponsor HLSF again. The two organizations have many customers and partners in common and the Higher Logic Super Forum has become a great place for technology partners and associations to all collaborate together both online in the Higher Logic application as well as in person.
Bobby Kaighn, Higher Logic's Director of Partnerships, had this to say: "We are glad to have the support and sponsorship of benel Solutions again this year. Their knowledge and expertise provides industry insight that greatly benefits our association clientele. We are happy to showcase this strategic partnership and look forward to more work together in the future."
"benel Solutions is proud to partner with Higher Logic, who has proven to be a leader in the online community and collaboration space," said Benjamin Muscolino, Co-President and Co-Founder of benel Solutions. "Sponsoring HLSF is a great opportunity to learn more about client interests in AMS-specific integrations, as well as other strategic technology initiatives we may be able to help with."
About benel Solutions LLC
benel Solutions is a full-service technology partner for associations & nonprofits including Association Management Software implementation and customization services, consulting, upgrade audit and management, software development, integrations, support and documentation around your data and digital strategy. benel Solutions understands both the business processes and technology that associations and nonprofits need to be successful and pride themselves on support and accessibility to their customers and partners. benel Solutions is an industry leading systems integrator in the AMS space and as a company founded of executives from both the business and technology sides of the industry, they are the fastest growing and one of the most well-balanced implementation firms serving the association and nonprofit markets today. For more information, please visit http://www.benelsolutions.com
About Higher Logic
Higher Logic is an industry leader in cloud-based community platforms. Organizations worldwide use Higher Logic to bring like-minded customers and members all together, by giving their community a home where they can interact, share ideas, answer questions, and stay connected. The community is where both people and organization will grow and succeed together. https://www.higherlogic.com/home