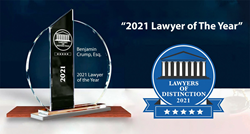 ORLANDO, Fla. (PRWEB) October 01, 2021
Benjamin Crump has been awarded Lawyers of Distinction's "2021 Lawyer of the Year" award. The Lawyers of Distinction "2021 Lawyer of the Year" award was awarded to Mr. Crump for his tremendous contributions to our justice system, outreach, and defense of his community as well as his formidable skills as a catastrophic personal injury litigator.
About Winner:
Mr. Crump has spent his career in the tireless pursuit of justice with an approach to law founded on the idea that "the Constitution applies to everyone, at every level of society". Through his participation in such cases as Trayvon Martin, Martin Lee Anderson Boot Camp, Jannie Ligons (State of Oklahoma vs. Daniel Holtzclaw) and Robbie Tolan, Mr. Crump has proven his dedication to civil rights and justice for the minority community.
His views on civil rights matters have often seen him contribute to Time magazine, NPR, and BET where he uses his platform to highlight social injustice and issues affecting his community.
As a litigator, Mr. Crump has won millions for his personal injury clients. Mr. Crump uses his vast legal experience along with his steadfast determination to attain justice for his clients and the settlements necessary to care for themselves and their families. During one of the nation's first virtual trials due to the Covid-19 pandemic, Mr. Crump's client was award $411 million for injuries sustained in a motor vehicle accident.
Mr. Crump continues to champion the rights of the underdog and for that we salute your courage, tenacity, and determination. Congratulations!
About Lawyers of Distinction:
Lawyers of Distinction is an international fraternity of lawyers who zealously seek justice.
Lawyers of Distinction recognizes over 30 areas of practice, has no political ties and no plaintiff or defense bias. Our only objective is to help attorney's stand out and "Distinguish Themselves" in a highly competitive legal landscape. L.O.D.'s Membership roster contains over 5,000 of the best of the best. We have been featured in such publications as The New York Times, U.S.A. Today, Time, Newsweek, Fortune, Forbes, Bloomberg Businesswire, The National Trial Lawyer, The American Lawyer and many others. In 2020 L.O.D. was recognized by "Inc. 5000" as one of the fastest growing businesses in the U.S.A.
Find Lawyers of Distinction Online:
Website: lawyersofdistinction.com
Instagram: @lawyersofdistinction
Twitter: @ lawyersofdis
Facebook: Facebook.com/lawyersofdistinction
Lawyers of Distinction uses its own independent criteria, including both objective and subjective factors in determining if an attorney can be recognized as a Lawyer of Distinction in the United States in their respective field. This designation is based upon the proprietary analysis of the Lawyers of Distinction organization alone and is not intended to be endorsed by any of the 50 United States Bar Associations or The District of Columbia Bar Association.