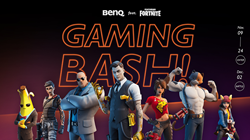 COSTA MESA, Calif. (PRWEB) November 10, 2020
BenQ America Corp. announced today its second Gaming Bash Competition and Giveaway featuring Fortnite. The Gaming Bash, which will take place virtually on Dec. 2 at 9:00 p.m. EST, will include two championship phases and multiple opportunities for participants to win one of BenQ's new MOBIUZ monitors.
Registration for the Gaming Bash is free, and the entry forms are open now and will close on Nov. 24. To enter, participants must create a public social media post or video explaining why they want the new BenQ MOBIUZ EX2510 monitor. Once the social post is shared, participants can complete their registration on the Gaming Bash Event Page.
For the first phase of the competition, the two participants with the highest engagement on their social media posts for the campaign will each win one MOBIUZ EX2510 gaming monitor. For the second phase, 190 participants will be randomly selected from the registrations to join the Fortnite tournament. Competing with BenQ Elites like bully, PhysicsIT, npen, RichHomeQuinn, and actingliketommy, participants will experience Fortnite with the best of the best while competing to win a BenQ MOBIUZ monitor.
The Fortnite tournament consists of two private solo matches on the Fortnite NA-EAST server. On Dec. 2, the first match will begin at 9:00 p.m. EST, followed by the second match at 9:50 p.m. EST. The top three participants in each match will receive a MOBIUZ monitor. The first place winners will receive BenQ's EX2780Q 1440p 144 Hz gaming monitor, second place will receive a MOBIUZ EX2710 1ms IPS gaming monitor, and then third place will receive a MOBIUZ EX2510 1ms IPS gaming monitor.
The BenQ Gaming Bash will be available to consumers in the U.S. and Canada, excluding Quebec. Individuals ages 14 to 17 must have permission from a parent or legal guardian in order to participate. For official rules and regulations, visit https://benqurl.biz/3n6Mfi1.
To learn more about the BenQ Gaming Bash and enter to participate, visit https://benqurl.biz/3n6Mfi1.
About BenQ America Corp.
The world-leading human technology and solutions provider, BenQ aims to elevate and enrich every aspect of consumers' lives by designing products with a purpose. BenQ sells and markets innovative technology products, consumer electronics, computing, and communications devices. Founded on the corporate vision of "Bringing Enjoyment N' Quality to Life," BenQ focuses on the aspects that matter to most people today – lifestyle, business, healthcare, and education - with the hope of providing people with the means to live better, increase efficiency, and enhance learning by providing people-driven products and embedded technologies spanning digital projectors, monitors, interactive large-format displays, audio products, cloud consumer products, mobile communications, and lifestyle lighting. Because it matters. For more information about products and to purchase, visit http://www.benq.com.