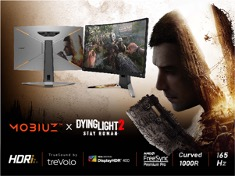 Dying light 2 Stay Human is exactly the game we're looking for to fully showcase our monitor's features.
COSTA MESA, Calif. (PRWEB) January 14, 2022
In The City filled with the infected and polluted with hazards, Techland's Dying Light 2 Stay Human challenges you to do one thing, stay human. Aligning with this challenge, BenQ MOBIUZ and Techland announced today the ultimate addition to your arsenal, EX3210R: Dying Light 2 Stay Human Night Runner's Edition.
This partnership blends two powerhouses of immersive gaming, as Techland delivers open world thrills that keep gamers on their toes, pivoting from one challenge to the next, while MOBIUZ gaming monitors maximize immersion for non-stop intensity. Combined, gamers can expect a mind-blowing experience filled with non-stop action and incredible graphics on a monitor built to make the most of every heart-pounding moment.
Gamers need a multi-pronged approach to navigate The City, and this 32-inch 1000R curved display creates a world of audiovisual sensory immersion, while adding an edge to every gamer's arsenal. Poor brightness control typically leaves gamers vulnerable to enemies and hides opportunities for the next parkour escape moves. With BenQ's exclusive Light Tuner gamers can select from 20 luminescence settings to determine the ideal balance of light and dark for their style of play.
Listen Up: Elevated Audio
Most gaming monitors can't effectively deliver sonic clues due to inferior sound systems., causing gamers to lose a competitive advantage when they miss the signs of approaching infected. These sound systems also impede on team communication and deny the added ambience of the soundtrack. With the EX3210R sound system which includes two 2W speakers, a 5W subwoofer, and a Digital Signal Processor (DSP) for selectable custom audio modes, gaming will never sound the same again.
Intelligent Optimization for a Smart Edge
Smart HDR tech showcases crisp details so gamers can identify friends from foes and treasure from treachery. Expect refined contrast, expanded clarity and vivid color, optimized for the environment by a discrete sensor on the monitor. Not only does this technology provide a competitive edge, but it also creates more enjoyment out of the game to fully experience Dying Light 2 Stay Human.
Throw a Curve into Your Game
In order to make gamers feel as if they are The City, the 1000R curvature matches the shape of the human eye for supreme immersion. EX3210R dissolves the space between the gamer and the action, wrapping their field of view with the sights, sounds, and scenes that make Dying Light 2 Stay Human one of the most anticipated horror titles of 2022.
"We're proud to announce the partnership with Techland to launch a special version of EX3210R for the upcoming Dying Light 2 Stay Human game," said Alan Song, BenQ America product marketing manager. "MOBIUZ aims to provide the most immersive gaming experience to gamers, letting them experience a world of vivid color and dramatic detail. Dying light 2 Stay Human is exactly the game we're looking for to fully showcase our monitor's features."
Want one. Need one. Now.
Exclusive limited edition EX3210R: Dying Light 2 Night Runner's Edition curved gaming monitors go on sale in February with pre-orders starting on January 21. All who purchase the monitor can redeem a code for a free standard digital copy of Dying Light 2 Stay Human.
Learn more about EX3210R Dying Light 2 Night Runner's Edition here.
Learn more about Dying Light 2 Stay Human here.
About BenQ America Corp.
A world-leading human technology and solutions provider, BenQ aims to elevate and enrich every aspect of consumers' lives by designing products with a purpose. BenQ sells and markets innovative technology products, consumer electronics, computing, and communications devices. Founded on the corporate vision of "Bringing Enjoyment N' Quality to Life," BenQ focuses on the aspects that matter to most people today – lifestyle, business, healthcare, and education - with the hope of providing people with the means to live better, increase efficiency, and enhance learning by providing people-driven products and embedded technologies spanning digital projectors, monitors, interactive large-format displays, audio products, cloud consumer products, mobile communications, and lifestyle lighting. Because it matters. For more information about products and to purchase, visit http://www.benq.com.
About Techland
Founded in 1991 in Poland, Techland is a renowned independent game developer and distributor for all leading platforms, including PC, Sony PlayStation, and the Xbox family of devices. Techland is best known for the original Dead Island games, the Call of Juarez series, and the Dying Light franchise, a global phenomenon played by over 20 million unique players to date. To top that, Techland's experienced teams allow the developer to work on two of its own AAA titles at the same time. Comprising over 400 professionals across three offices in Poland, the company is committed to delivering unforgettable experiences and using the latest technology for innovative entertainment, which includes the proprietary C-Engine. For more information about the company itself, visit the official website at: http://www.techland.net.
All product titles, publisher names, trademarks, artwork, and associated imagery are trademarks, registered trademarks, and/or copyright material of their respective owners. All rights reserved.