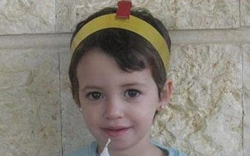 RAMAT GAN, Israel (PRWEB) May 23, 2019
Four years after losing her daughter to injuries sustained during an stone-throwing attack in the West Bank, Israeli mother Adva Bitton has given birth to a new baby girl at Sheba Medical Center, Tel HaShomer. The baby was born on the same birth date of her late sister, Adele Bitton, and marks a new chapter in the family's life.
"Just as we live with our loss 24/7, we are choosing life and continue to bring life into the world," said Bitton.
In 2013, Bitton was traveling through the West Bank when her vehicle was assaulted by Palestinian teenagers pelting her vehicle with rocks. Bitton lost control of the car, and the resulting accident caused her daughter Adele to suffer a traumatic and ultimately fatal brain injury.
After this senseless tragedy, there is reason for hope again. The new baby arrived on May 20 and was delivered naturally at Israel's Sheba Medical Center.
Sheba Medical Center has a long and documented history of fostering peace through medicine. The hospital provides cutting-edge treatment and life-saving operations for all children, regardless of their religion, race or nationality.
Sheba Medical Center is the largest and most comprehensive hospital in the Middle East, and was recently named one of the "10 Best Hospitals in the World" by Newsweek Magazine.
About Sheba Medical Center, Tel HaShomer
Born together with Israel in 1948, Sheba Medical Center, Tel HaShomer is the largest and most comprehensive medical center in the Middle East. Sheba is the only medical center in Israel that combines an acute care hospital and a rehabilitation hospital on one campus, and it is at the forefront of medical treatments, patient care, research and education. As a university teaching hospital affiliated with the Sackler School of Medicine at Tel-Aviv University, it welcomes people from all over the world indiscriminately. In 2019, Newsweek magazine named Sheba one of the top ten hospitals in the world. To learn more, visit: eng.sheba.co.il.