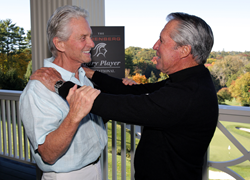 "It's exciting to see the tremendous support from our friends in golf and business for our upcoming event at GlenArbor," said Gary Player.
BEDFORD, N.Y. (PRWEB) September 27, 2018
Black Knight International and title sponsor Berenberg today announced the spectacular line-up of participants celebrating the Union of Golf and Giving at the Berenberg Gary Player Invitational on September 30 – October 1, following the Ryder Cup. The event will take place at GlenArbor Golf Club.
Joining the Black Knight, the all-star field includes former U.S. Ryder Cup Captains, Tom Watson and Lee Trevino; European Ryder Cup Captain, Colin Montgomerie; and 13 Major winners in total including Fred Couples, Larry Mize, Jerry Pate, Mike Weir, Trevor Immelman, Mark O'Meara, Nick Price, Jeff Sluman, Brittany Linciome and Morgan Pressel.
In addition to the world class golfers in the field, Academy Award winning actor and GlenArbor Golf Club member, Michael Douglas, will be participating in the festivities.
Members of the PGA, LPGA, LET and Champions tours include Bill Haas, Blair O'Neal, Danielle Kang, Julian Suri, Alison Lee, Kristy McPherson, Brittany Lang, Beatriz Recari, Annie Park, Caroline Martens, Alison Lee and Emma Cabrera-Bello. World Long Drive Champion, Troy Mullins, is also participating.
"It's exciting to see the tremendous support from our friends in golf and business for our upcoming event at GlenArbor," said Gary Player. "We're grateful that each of these talented individuals have taken the time out of their busy schedules to help raise money for The Player Foundation."
"It is an honor to call Gary Player one of our global brand ambassadors, as he is truly an icon and legend in the game of golf," says Hendrik Riehmer, Managing Partner of Berenberg. "It's incredible to see that beyond his career as a Grand Slam Champion, Mr. Player has dedicated himself to a number of philanthropic initiatives including the Gary Player Invitational series. We greatly value our partnership and look forward to another successful event."
The Berenberg Gary Player Invitational, forms part of the world-leading charity golf event series, which has helped The Player Foundation raised more than $64 million for charities worldwide. The Player Foundation is on a quest to raise $100 million by 2025 in support of charities for the betterment of impoverished communities and the expansion of educational opportunities.
Bo Wood – Black Knight International
b.wood(at)garyplayer.com
+ 1 864 477 2720
Jade Lotriet – Black Knight International
jade(at)garyplayer.co.za
+27 21 448 7777
Notes to the editors:
ABOUT BLACK KNIGHT INTERNATIONAL
Established in 1983 by Marc Player, Black Knight International is a global holding company for The Player Group and the constantly expanding family of Gary Player® brands. With a powerful presence in North and South America, Europe, Asia, the Middle East and Africa, Black Knight is a multicultural and multilingual company offering branded services for the leisure and real estate industries. This rapidly growing firm is diverse and infused with the same tenaciousness and drive as Gary Player, world renowned iconic golfer. The holding company divisions include: Gary Player Design, Player Real Estate, Black Knight Enterprises, Black Knight Solutions, Black Knight Capital, Gary Player Academies, and The Player Foundation.
ABOUT THE PLAYER FOUNDATION
The Player Foundation was established in 1983 by Marc Player. What began as an effort to provide education, nutrition, medical care and athletic activities, for a small community of disadvantaged children living on the outskirts of Johannesburg, South Africa has now blossomed into an organization that circles the globe bringing aid to underprivileged children and impoverished communities.
The Foundation is funded primarily by six Gary Player Invitational events presented through Black Knight International. Pairing celebrities and professional golfers from the PGA and Champions Tours with businessmen and international sports figures, the annual tournaments are staged in the United States, China, Europe and South Africa. The proceeds of these tournaments and other special events provide funding for an ever-expanding number of institutions around the world, including the Blair Atholl Schools in South Africa, the Pleasant City Elementary School in Palm Beach, the Masizame in Plettenberg Bay, South Africa, and AIDS infected children in Baoshan, a drug-infested city located on the China-Burma border. Since its establishment, The Player Foundation has donated more than $60 million to the support of children's charities, the betterment of impoverished communities and the expansion of educational opportunities throughout the world.
Gary Player, acknowledged as a world-class humanitarian, believes that the strength of our future depends upon the abilities of our children. "I have found that the opportunity to make a difference in the lives of others does not thrust itself upon us," Player says, "But we do not need to look hard for it either. When you spot the chance to give back to the world, act on it. You will have made life better, for others, and for yourself."
The Gary Player Foundation is a non-profit 501 C (3) organization managed by Black Knight International in Palm Beach, Florida.
ABOUT BERENBERG
Berenberg was established in 1590 and today is one of Europe's leading privately owned banks. With headquarters in Hamburg and strong presences in Frankfurt, London and New York the bank works from offices across Europe and America. Berenberg delivers its expertise through four divisions – Wealth Management, Asset Management, Investment Banking and Corporate Banking.
Berenberg is led by Managing Partners who are fully responsible for the bank. In its 428 year history there have been only 38 of them. In the last ten years, Berenberg doubled its staff to 1,600 professionals to deliver a modern and efficient service, while maintaining a firm connection with its heritage and traditions.
"We are proud to call Gary Player our Brand Ambassador, as he is truly a great Ambassador for the game of golf," says Hendrik Riehmer, Managing Partner of Berenberg. "This must be measured not just in terms of his career achievements as a Grand Slam Champion, but also in driving such outstanding philanthropic initiatives as the Gary Player Invitational series. The event's great virtues and its ability to give so much back to charity is one of the many reasons we have chosen this sponsorship as an important business platform for years to come."
BERENBERG AND GPI RELATIONSHIP
Berenberg staged the first European Senior Tour tournament in South Africa 2010 and since that time a deep relationship between Mr. Player and Berenberg has developed. Gary Player is one of many brand ambassadors of Berenberg in golf, besides Tom Watson, Colin Montgomerie, Martin Kaymer, Branden Grace, Bernhard Langer, Fred Couples, Mark O'Meara and Georgia Hall.