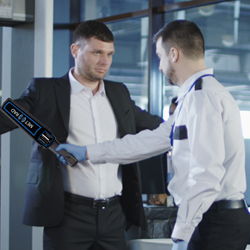 SAN RAFAEL, Calif. (PRWEB) July 28, 2020
Instrumentation with simplicity of operation is one of the chief objectives for effective first-line response.
This achievement is realized in a unique manner with the multi-functional MetRad 1. This accomplishment is even more significant with the ability to simultaneously detect metal and gamma radiation without the need of switching modes. Furthermore, alarm indications of radioactive material and metal are automatically presented visually in different colors, achieving an effective and simplistic technique for detection of metal, radiation or both. The MetRad 1 is capable of detecting many metals including iron, nickel, copper, brass, bronze, lead, aluminum, tin, gold and silver.
Security Operations
A single scan of baggage or personnel allows both metals (e.g., hand guns or knives) and radioactive materials to be effectively screened thus saving time and improving overall security operations.